After two sweet posts, I bring you a recipe that is not only wintery and delicious but is fairly easy to make and healthier. I know the title of the soup sounds a little strange but that's what makes this soup special. The subtle sweetness of parsnips and pears, in combination with peppery ginger root, and a garnish  of sweet and sour raisin gastrique gives this soup a nice contrasting flavor. I have heard that parsnips taste like potato and turnip but I don' think so. They have a distinct sweet flavor of their own with a spicy bite. Their texture after cooking does look like that of a mashed potato because my husband's first reaction to this soup was, "What….? Potato soup"
If you have been reading my blog for a while , you would have noticed that I have  posted just one potato recipe. I rarely use potatoes  in my cooking because my husband and daughter are potato haters. I had to convince both of them that this soup was made from same parsnips of which they just had chips.
I really wanted them to love this creamy, velvety parsnip soup so I added a spicy kick to balance the sweetness. It is not that spicy where you feel that your mouth is on fire but it definitely brings the  heat of ginger, black peppercorn and red chilli powder in a gentle way. I served the soup with stuffed chicken cutlets on side which I was eyeing to make since I saw it on Amelia's blog. I had some leftover salad, which I thought to use for stuffing. I horizontally sliced the butterfly chicken breast in two, stuffed with salad, then dipped in gluten free flour before frying. That's not how Amelia has done. Hers were breaded and stuffed with bean sprouts. Click here for recipe details. I wish I would have done the same for crispy cutlets, but there were no complaints from my dear daughter and husband. They were quite pleased with the meal and agreed that  the parsnip soup would not have tasted better without raisin gastrique and chicken cutlets on side.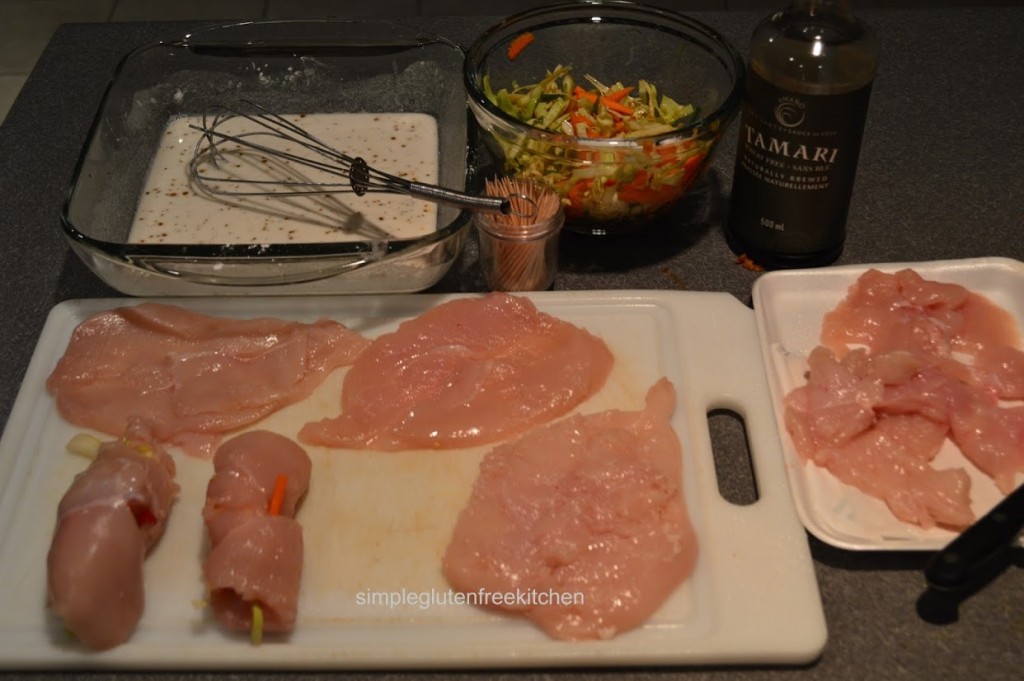 Quick notes:
Customize this soup to match your taste but I would suggest you to add bay leaf and black peppercorn  to give a bit of sharpness. Apple cider vinegar can also be added for a slight sour flavor.
While pureeing  hot parsnips in a blender, take care that you fill it less than half way and cover with dry tea towel before blending at low speed.
Pass the puree through a sieve for a fine smooth texture ( mine was done in a vita mix so straining was not required).
SWEET AND SPICY PARSNIP SOUP
adapted from: Globe and mail
Serves: 5
Ingredients for parsnip soup:
900 g  parsnips, chopped
1 celery stick (3/4 cup chopped)
125 g onion, chopped
2 pears, diced
2 liters water
2 bay leaves
2″ piece of ginger (heaped 1 tbsp ,chopped)
1 tsp black pepper corn
1.5 tbsp each of butter and olive oil
salt to taste
Ingredients for  raisin gastrique:
1/2 cup white sugar
1/2 cup apple cider vinegar
1/2 cup raisins
1 tbsp minced ginger
1/2 tsp red chilli powder
1 tsp salt
Method:
In a large pot, heat oil and butter over medium heat, add bay leaves, onion, ginger and celery. Cook until soft and fragrant.
Add chopped parsnip and diced pears, continue to sweat gently over medium heat until parsnips and pears have started to soften. Stir frequently to prevent browning.
Add the water, black peppercorn and increase heat, stirring occasionally until the liquid reaches a boil.
Reduce heat , cover and simmer until parsnips are very tender for about20 -30 minutes.
Remove from heat, discard bay leaves and puree in a blender or with an immersion stick blender.
Return to a clean pot, adjust thickness as desired with water. Heat to a boiling point and season to taste with salt.
Serve hot with raisin gastrique.
Method to make raisin gastrique:
In a small pot, heat sugar and vinegar over medium heat until sugar is melted and liquid is beginning to simmer gently.
Add raisins, ginger, salt and  red chilli powder. simmer for 5 minutes, until raisins are soft and plump.
Remove from heat and cool to room temperature.
Drizzle a tablespoon into each bowl of hot soup and serve immediately. Enjoy with chicken cutlets on side.
Linked to Allergy free Wednesdays.

Print
You might also like: