We come across recipes that sound good when we read about it and sometimes we want to make but never get around to do so. Harissa was on my list from very long time and with so many versions of this exotic spicy paste, it was hard to decide which was the best. When Helene posted harissa recipe I told myself I need to try this soon. Her recipe was different and did not sound too spicy…. Don't get me wrong here, I love spicy food but not at the cost of burning my mouth. Once my husband made me eat Nando's chicken drizzled with Peri Peri sauce,  it did not take me long to realize the heat was too much for me. Luckily, I was at the food court and got few creamers from the coffee shop to help cool my mouth.
I finally made harissa paste with habanero and thai chillies substituting for piri piri and over ripe red 'green' chillies because that's what I got from the store. Habanero chilli is spicy and comes in orange and red color. I was not sure how hot this chilli paste would end up with the chillies I have used. I tasted a tiny bit with yogurt if it needed to tone down or increase the heat level, I found it just right. However, to finally test I used the harissa paste in a shrimp dish which is based on one of my husband's favorite Kadai Jhinga, served at many big restaurants. It seemed to perfectly fits in the recipe as most kadai dishes use kashmiri chillies, cumin (caraway and cumin can be used interchangeably)  and coriander which are some of the essentials of harissa. The whole dish turned out quite good but not spicy enough for my husband.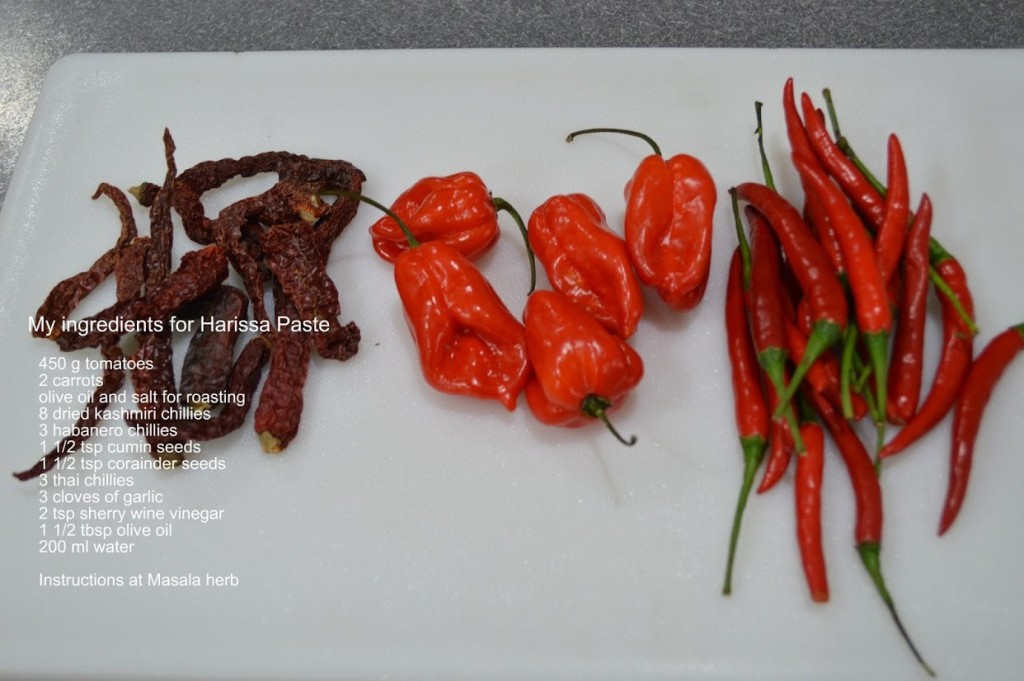 I made it again last Sunday and invited few of his friends to watch Super Bowl at our house. I don't  watch any sports but Super Bowl was an excuse to get some feedback for my shrimp dish. All his friends are typical spice food eaters and they really enjoyed the heat in  Kadai Jhinga. I could not take more than two shrimps as my nose starts running within seconds of eating. If you prefer you can adjust the heat  but I would suggest against it if you are serving with drinks. And also, if your partner loves spicy seafood, this can be a classic dish to serve on Valentine's night to impress him.
Enjoy your chocolates after!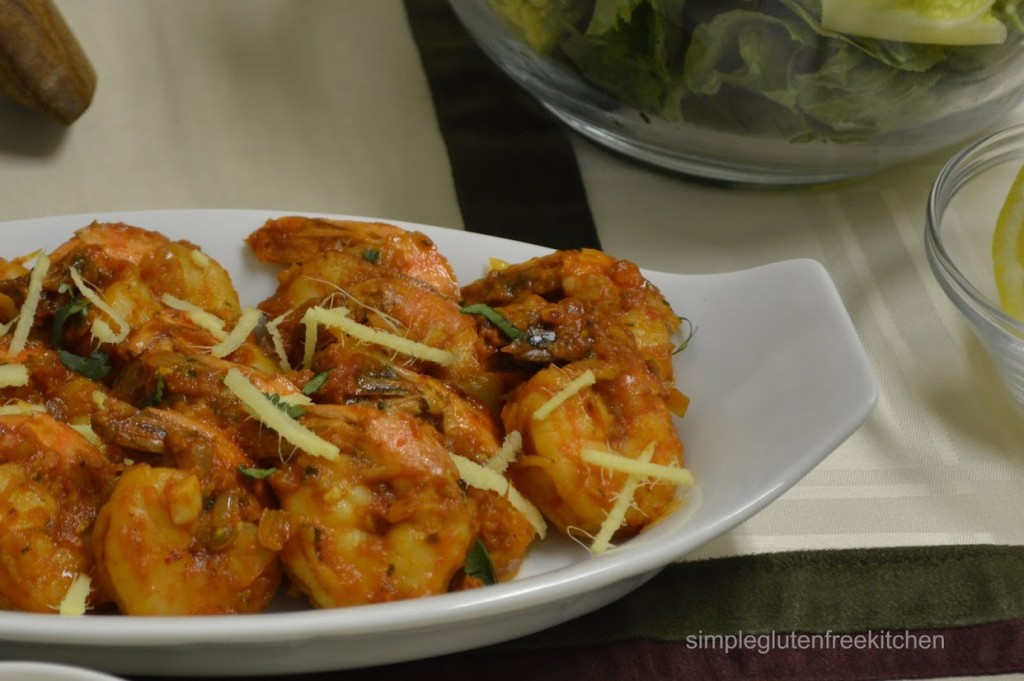 KADAI JHINGA WITH HARISSA
Ingredients:
1.5 lbs black tiger shrimps,peeled,deveined and tail on
3 tbsp harissa paste
1/2 onion (85 g), chopped
3/4 tbsp each of ginger and garlic, chopped
2 (165 g) tomatoes, chopped
1/3 cup tomato paste
11/2 tsp kasuri methi
3 tbsp oil
1 1/2 tsp coriander seeds, coarsely ground(in mortar and pestle)
salt to taste
ginger Julienne to garnish
Method:
Heat oil in a skillet on medium heat. Add coarsely ground coriander seeds and saute until they begin to crackle.
Add onion, ginger and garlic and cook stirring frequently until it gets some golden brown color.
Add tomatoes and cook until no longer raw tasting.
Next, add tomato and harissa paste, salt and kasoori methi (rubbing between your palms) with 1/2 cup of water. Cook stirring constantly until the onion and tomato mixture  thickens.
Add shrimp and stir so that the shrimps are coated well with masala. Cook until they turn pink and cooked through, about 5-6 minutes.
Transfer to a serving plate. Garnish with ginger juliennes.
Serve as a cocktail snack or eat it with your meal as a side.

Print
You might also like: