Although I am a firm believer that every day should be celebrated but lately I was looking for a reason to celebrate and indulge in some chocolate deliciousness. Because my daughter totally banned me from making any sweet thing preferably chocolate deserts.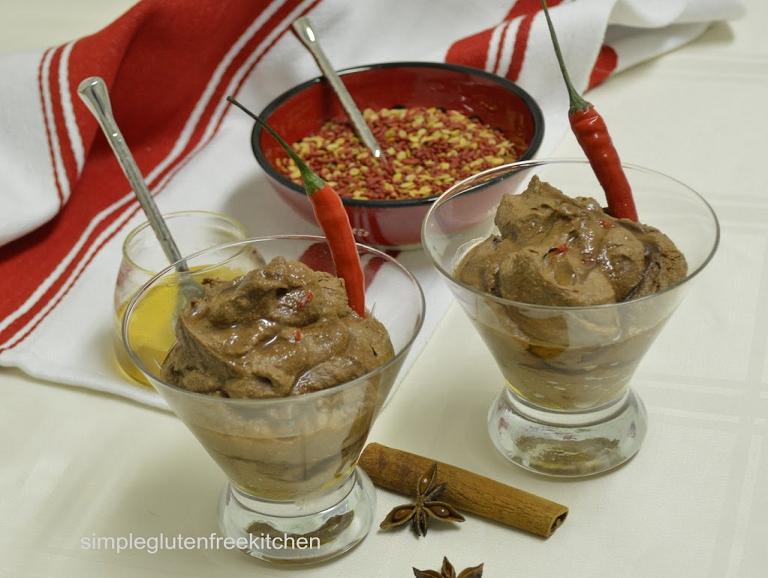 What happened was,that she bought a dress online, the size she ordered was correct but her waist was too tight. She does not wanted to return it nor she could order a big size because then it will be too loose, so she felt that if she cut back on sweets and chocolates (also juice and coke), she could fit into that dress. She is graduating this year and wants to look her best in every dinner and dance and in final grad photos. Since I knew chocolate is her weakness I do not wanted to make anything that could dissuade from her goal. Refraining from something that you really love needs a lot of self control and I am really proud, my daughter showed rock solid will power.
Now, she not only gracefully fits in the dress that she bought but also can fit more easily in some of her old dresses. She was beyond thrilled and wanted to treat herself with chocolatey  pleasure. When I asked if she was done with her plan, she said, No she wants to continue with it but would not be eating crazily anymore.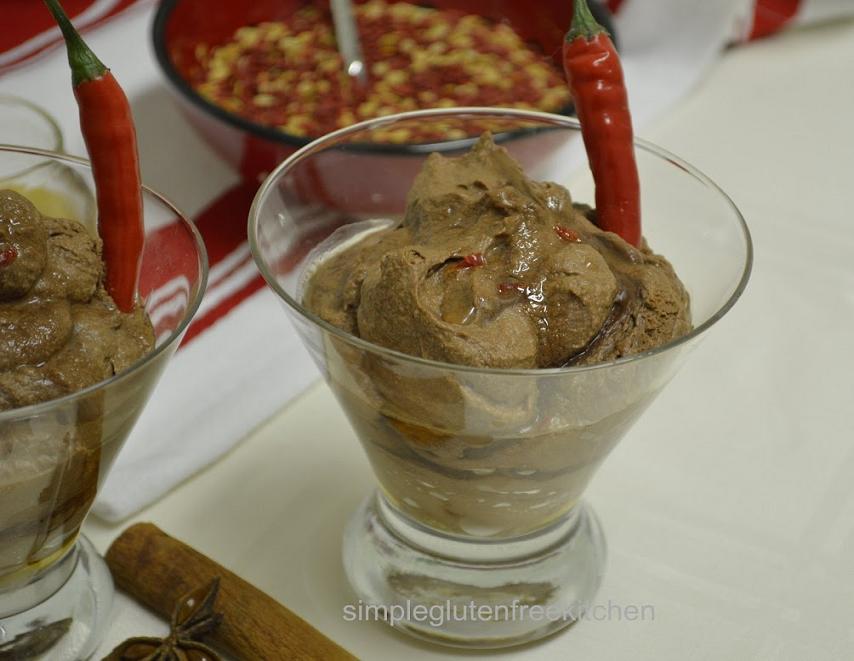 I decided to make chocolate mousse for all of us with mascarpone and whipped cream. Its interesting that there are so many different ways to make this classic french dessert with different textures and ingredients but one common name: Chocolate Mousse. This particular mousse is thicker and denser especially when chilled and is more like chocolate pudding. I can guarantee you will love this thick mousse with spiced syrup on top, which gives a tiny kick in every lick of spoon.
Enjoy!
SPICY CHOCOLATE PUDDING MOUSSE
Source: globe and mail
Serves: 3
Ingredients:
Spiced Syrup
1/4 cup water
1.5 tbsp sugar
1.5 tbsp honey
1 star anise
1″ piece cinnamon
1 red thai chilli, seeded and chopped (scant 1/4 tsp)
1/3 tsp salt
2 cardamom pods, crushed
Chocolate Mousse
1 cup whipping cream
1/2 cup mascarpone
4 ounces (125g) good quality dark chocolate
Method:
Combine the ingredients of spiced syrup in a small pot over medium heat.
Bring it to boil and boil for 5 minutes or until syrupy.
Cool to room temperature and strain out spices.
Bring 1/2 cup of whipping cream to boil over high heat. Remove from heat and add chocolate. Stir until melted and well combined. Cool to room temperature.
Put mascarpone into a medium bowl and fold the chocolate mixture into it.
Beat remaining whipping cream until soft peaks form. Fold cream into chocolate mascarpone mixture.
To serve, drizzle 1 tsp spice syrup in three serving glasses. Spoon about one ice cream scoop chocolate mixture into each glass. Drizzle another tsp of spice mixture and then add remaining chocolate.
Finish with another drizzle of syrup. Chill for 1/2 an hour before serving.

Print
You might also like: