Quesadilla makes for an excellent lunch and dinner solution for summer days when its too hot and you don't want to linger over the cooking. The possibilities for filling this Mexican sandwich are endless and you can pretty much stuff anything that's lurking around in the refrigerator, even leafy greens like Kale.
Kale is one of the most nutritious members of the brassica family, which includes cabbage, broccoli and few others. I used to hate raw kale and ate it only in chips or stir-fry, just because it was good. Then I learnt about massaging raw kale and I never looked back. Massaging turns thick bitter kale leaves into soft and sweet green. and it is really easy to do. You tear the kale leaves  into salad ready pieces, removing stems and central ribs, then toss the leaves  with olive oil and salt and massage for a good 5-10 minutes. The kale breaks down and become much softer in nature.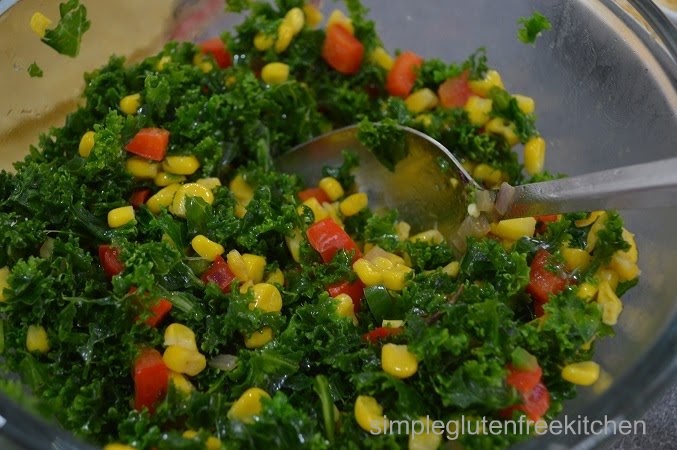 If you want to integrate more leafy greens into you diet, making this quesadilla is a good opportunity. It is filled with sweet corn and kale salad, which even kids would love. They are so delicious!
Crispy, Cheesy Kale Quesadilla
Easy to do quesadilla with nutritious massage kale salad.
Ingredients
For Kale and corn salad

4 leaves of kale
1 1/2 cup corn kernels
1/2 cup diced red pepper
1 1/2 tbsp chopped red onion
1/2 chopped jalapeno
1 tbsp+2 tsp olive oil
1 tbsp lemon juice

For quesadilla

6 GF tortilla ( I am using ivory teff tortillas)
3 cup mix cheese ( plain or with jalapeno), shredded
butter for cooking quesadilla
Instructions
In a large bowl, combine kale, 2 tsp olive oil with a pinch of salt, and massage the kale leaves with your hands to soften the leaves.
Once its softer and reduced in size, add lemon juice and set aside.
In a pan heat the remaining 1 tbsp olive oil on medium heat. add onion, saute until softened.
add corn and red pepper, turn the heat to high. Cook for 1-2 minute. Stir in jalapeno, season with salt and turnoff the heat. Add the warm corn mixture to kale.
Heat a large non stick pan over medium heat. Cook one side of all gf tortillas, and transfer to a plate.
Reduce the heat to low. Brush the bottom of pan with butter.
Lay one tortilla in the pan (cooked side up) and sprinkle (about 1/2 cup) of cheese across the surface.
Spread 1/3 cup-1/2 of filling over half of the tortilla.
Once the cheese is melted and the underside of the tortilla is deeply golden, fold the tortilla in half, pressing down so the melted cheese glues it together.
Slide the quesadilla to a cutting board, cut into quarters or wedges.
Serve warm with greek yogurt and / or guacamole for dipping.
Notes
Spreading the filling over half makes the quesadilla easier to fold, and cooking on low heat make them crispy.
Make sure to wipe the pan clean with paper towel before making each quesadilla.
http://www.simpleglutenfreekitchen.com/2013/08/crispy-cheesy-kale-quesadilla.html

Print
You might also like: