When it is pouring heavily all that your heart desires is a hot  cup of masala chai or coffee. And, because I believe coffee and tea are meant to be enjoyed with a snack, there's nothing better than having a biscotti. It is my best all time favorite snack since childhood.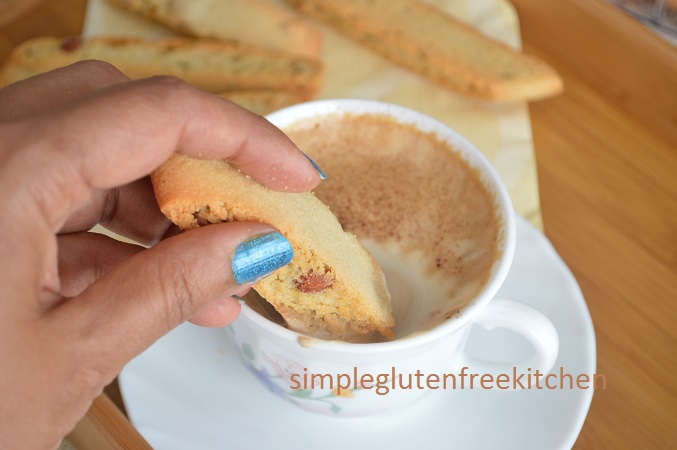 Okay, I got to be honest here, I never had biscotti growing up but I  totally loved a golden brown Indian cookie called, cake rusk.
Do you know what it is?  It is a twice baked buttery cake slices, deliciously crunchy, studded with fennel seeds,  nuts,  and sometimes raisins. Every time I ate, I could not resist myself to one or two. It was that addictive. When I first had biscotti at Starbucks, it tasted similar to cake rusk but a bit hard.
In India I never tried to make cake rusk at home, we always bought boxes of these, since it had a long shelf life and was a good accompaniment to tea even for guests. However, now I make it for two reasons, first a (full gluten) single biscotti cost $1.00  or more depending on the flavor ( gluten free can cost more) and second because I rarely buy any prepackaged gluten free baked good and bake everything from scratch. My recipe of fennel almond biscotti is kind of a mix of both,  Indian cake rusk and American (or Italian) style biscotti. Light and crunchy, not hard as rock.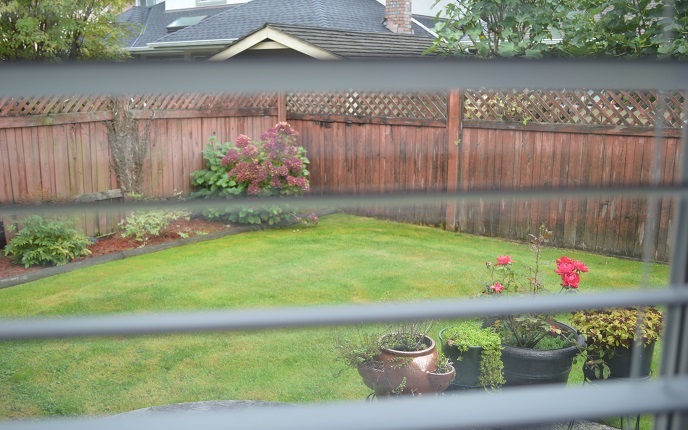 If you are wondering about the above picture, well that's taken when I was sitting next to the window enjoying my coffee after taking pictures of the biscotti. Everything  looked so fresh, calm and peaceful  after the rain. I love rainy days though it may make many people feel gloomy but I find them comforting and soothing,. look at the bright side, rain is the ultimate excuse to take refuge more at home  watching romantic movie in the company of your partner, read books, do window shopping, drink cups of tea or indulge in leisurely baking.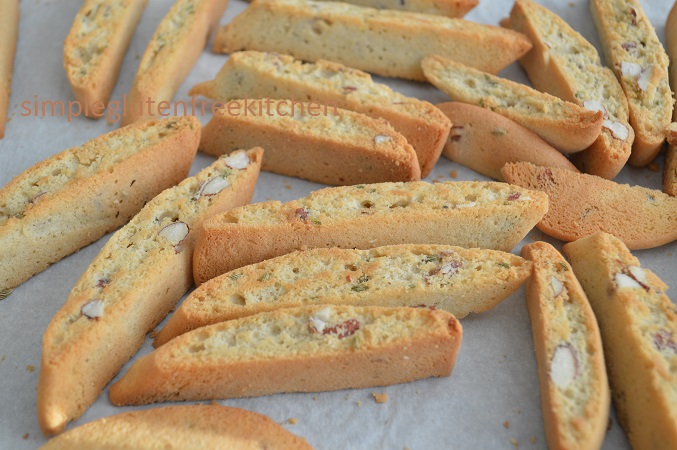 The warm sweet odor of fennel seeds adds a beautiful flavor to this biscotti and fills the home with comforting aroma while baking. If you can't find fennel seeds, anise seeds make a fine substitute. I have added almonds for extra flavor, which are not essential but I am a bit obsessed with nuts and personally love almonds with fennel flavor, but if you are not someone like me, you can leave out the nuts altogether.
Almond Fennel Biscotti / Cake Rusk
A perfect tea time snack.
Ingredients
123 g (3/4 cup) rice flour mix
93 g (3/4 cup) amaranth flour
100g (1/2 cup) sugar
1/2 cup butter
1/2 cup chopped almonds
1 tbsp -2 tbsp fennel seeds (coarsely ground)
1 tsp baking powder
1/4 tsp baking soda
3 eggs
Instructions
Preheat oven to 325° F. Line a cookie sheet with parchment paper.
Mix amaranth and rice flour mix, baking powder, coarsely ground fennel seeds and baking soda in a bowl. Set aside.
With an electric mixer, beat butter with sugar until pale and fluffy.
Add eggs and blend well.
Stir flour mixture into butter mixture until blended.
Stir in almonds.
Using two spoons plop three fairly straight lines onto prepared cookie sheet. Shape it into a log with the back of spoon.
Bake in the oven for 15-20 minutes or until light brown.
Remove from oven, but do not turn off oven. Reduce the temperature to 300°F. Line another baking sheet with parchment paper.
Let the logs rest for 10 minutes. Cut each log into 1/2 -3/4" wide slices.
Lay each slice back on the cookie sheet with cut sides facing down.
Bake for 7 minutes. Turn the cookies over and bake for another 7-8 minutes.
Remove from oven and cool on a cooling rack.
http://www.simpleglutenfreekitchen.com/2013/09/almond-fennel-biscotti-cake-rusk.html

Print
You might also like: