All through her summer break, my daughter bugged me to make thai chicken curry and when I made it she was not impressed. She said, it looked unappetizing. I was a little disappointed, as she is my best food critic and I value her opinion. She evidently wanted a curry that resembles Indian curry but has thai flavor. Don't know when and what moment I assumed she was asking for thai green curry. Eventually, when she had the curry for dinner her verdict changed. She said that, except for the color, the curry tastes pretty good and fragrant, and the combination of chicken with broccoli and cashews was superb.
I couldn't help saying to her to never ever judge a food without tasting.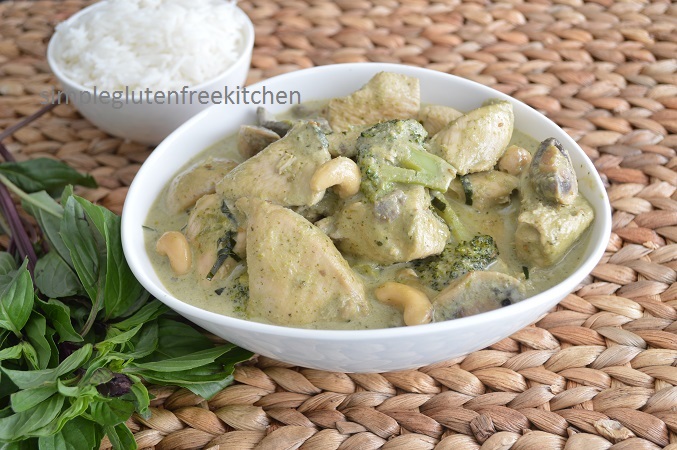 Thai dishes are hard to make if you don't have access to a good Asian market that carries all fresh ingredients necessary for that particular Thai flavor. I live in a city where 60% of population is of Asian descent and its very convenient to shop for Asian grocery. However, when I went looking for thai basil, galangal and kaffir lime leaves, even the big Asian supermarket like T&T and China world did not have it. I called almost every  Asian market in Richmond,  but could only find galangal and lemon grass. Somehow, after searching on internet for ethnic grocery, I located Hen long market in surrey and found everything I needed. 
Now, I had all the ingredients to make thai green paste from scratch. I followed the recipe from this video with a slight change. I doubled the amount of chillies and toasted the cumin and coriander seeds before grinding. I have to say this was my first time making green curry paste and loved the flavor each ingredient brings, to the paste.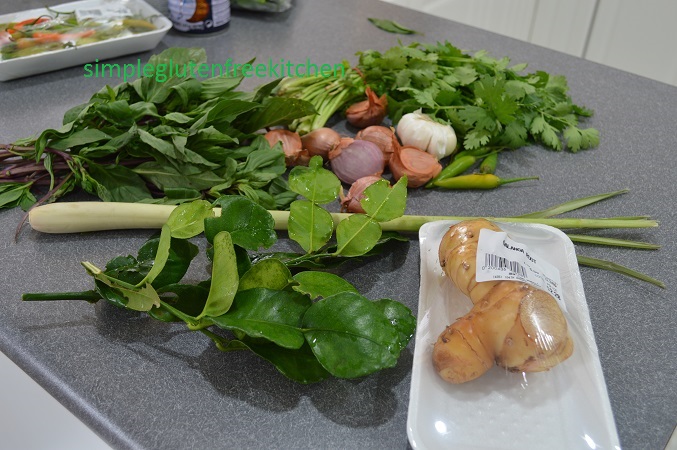 After the green curry  paste was ready, it was time to use it in chicken curry. One of the most important ingredient for the thai cuisine is coconut milk and a good quality milk makes a difference. Several brands of canned coconut milk contain preservatives and dyes with only 20-30% of coconut extract. They taste like cardboard. When I was shopping at the store, I asked a thai lady to help me choose the coconut milk which she uses for cooking. She picked two cans from her cart and gave it to me, I was confused as one said, coconut milk and the other said coconut cream. I asked her, what was the difference and which one was good? She said they both were good in curries and the difference was in the concentration and consistency. A thick, rich and coconutty curry should have  60-70% coconut extract, and that's what  it said on both the cans.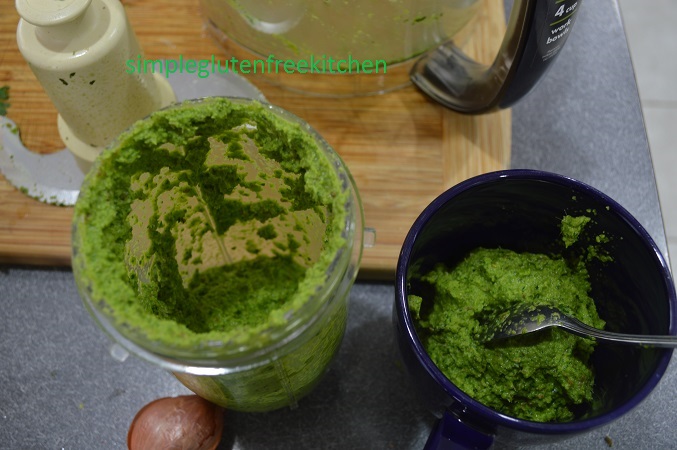 There's nothing quite like a fragrant Thai green chicken curry made from scratch.
Ingredients
2 chicken breast, (535 g) cut into 2" pieces
1 head broccoli, broken into florets
10-12 mushrooms, cut into half
400 ml coconut cream ( I used Savoy brand)
handful of cashews
3.5 tbsp green curry paste
4 kaffir lime leaves, cut into fine strips
4 thai basil leaves, chopped
1/2 tsp white pepper powder
1 tbsp tamari (soy sauce)
2-3 tsp fish sauce
salt if required
Instructions
Heat a pan on medium. Pour coconut cream/ milk, bring it to boil. Cook, stirring for 1 minute.
Add green curry paste and mix well to blend it in.
Add the chicken pieces to the bubbling curry along with fish and soy sauce. Let it cook for about 6 minutes.
Add broccoli, mushroom, white peeper, cashews, thai basil and the kaffir lime leaf strips.
Simmer the curry for 4-5 minutes or until everything is cooked.
Season with salt if needed.
Serve hot with rice.
http://www.simpleglutenfreekitchen.com/2013/09/thai-green-chicken-curry.html

Print
You might also like: