I love watching movies, but I don't always write about them on blog, unless I really find something interesting about it or it leaves an impact on me. The last time I mentioned a movie on my blog was in 2011 about Zindagi Na Milegi Doabara ("you won't get this life again"). It was a brilliant movie that celebrates friendship.
This Sunday I saw another brilliant movie called "Queen" by Vikas Bahl. It is by far the best female centered hindi movie I have seen in recent years. My friends and I were going for this movie by ourselves but then we decided to take along our husbands. The movie is about a small town girl who decides to go on her planned honeymoon trip alone after her wedding is called off by her fiancee. That's when her journey of exploration and self discovery begins.  As a woman I enjoyed the movie, and guess what, men also loved it, my husband said he could watch it again. Folks, it is one such entertaining movie which you don't want to miss, so grab your tickets. It is playing  in theaters with english subtitles.
I copy a quote from NDTV review that says it all about the movie..
"Queen is spicy, balmy and uplifting. Like golgappas, it leaves a zesty aftertaste that lingers on until long after the ride has ended. It warms the heart and tickles the funny bone with equal force."
And, after the movie don't go out for pizza or burger. Go home and make this irresistibly delicious and healthy salad with grape/tahini vinaigrette and herbs for a burst of flavor in your mouth.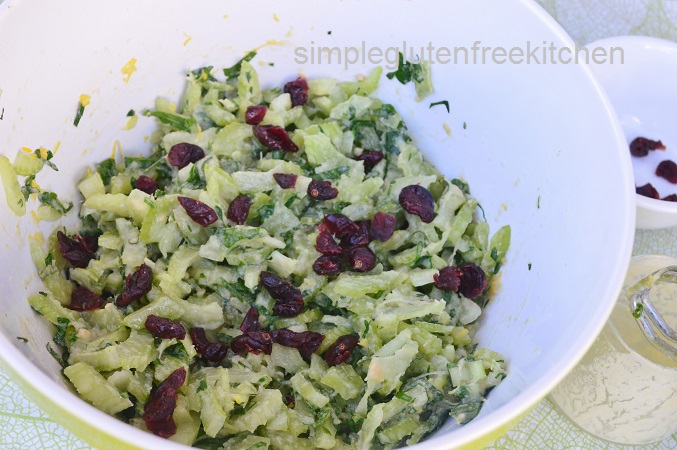 We eat lots of salads in our house and I'm always looking for new combinations that use common ingredients and are appealing. A couple weeks ago Sylvie Sullivan posted a recipe in Foodies community of Google+ for celery salad, which I wanted to make it as soon as I saw it. The salad was  totally delicious, we all liked it a lot. Second time I made it, I substituted dates with green grapes and hot  green chili for red pepper flakes purely because I wanted my salad to be on the greener side. This is a refreshingly crunchy and sweet salad with a slight kick from green chili in grape vinaigrette. Eat this alongside a main course for a side salad or even as an appetizer, as I did the other day on top of the Socca.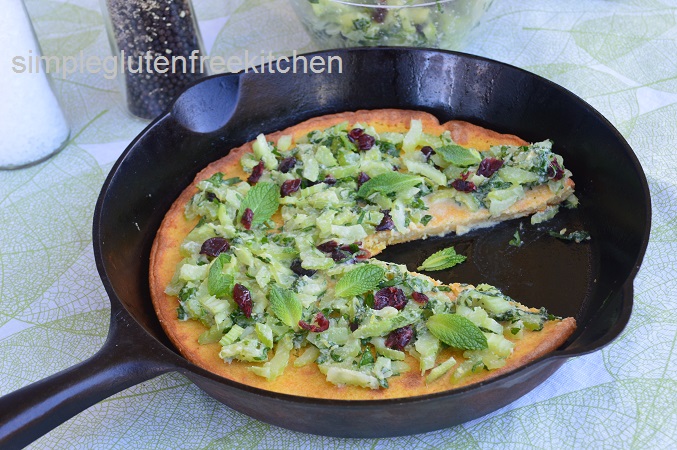 This socca is made with besan. I labbed the recipe last week, and posted in foodies community. You can check my attempt here on google+ page and the original recipe by Loretta over here or on her blog here.
Celery Salad with Grape vinaigrette
Simple yet irresistibly delicious, this minimalist salad makes a great refreshing side or snack.
Ingredients
Salad

half bunch (about 6 stalks) celery, inner leaves included, rinsed
zest from 1 lemon
2 tbsp cranberries
salt to taste
1/3 cup mint, chopped
1/3 cup flat parsley, chopped

Green Grape Vinaigrette

9-10 sweet green grapes
2 tbsp tahini (can add more)
3 tbsp lemon juice
1 hot green chili
Instructions
With a sharp knife, thinly slice celery stalks at a slight diagonal angle (approx 4 cups).
To make the vinaigrette, puree grapes and green chilli with lemon juice, in a blender. Add tahini and blend again.
Combine celery, lemon zest, salt, parsley, mint in a medium bowl.
Just before serving, add vinaigrette; toss to coat.
Sprinkle with cranberries.
http://www.simpleglutenfreekitchen.com/2014/03/celery-salad-with-grape-vinaigrette.html
This post is part of  Allergy Free Wednesdays.

Print
You might also like: