There's something about mangoes that everyone just loves. Apart from being delicious on their own, mangoes are great in salsas, stir fry and desserts.  They are in season and that makes me thrilled to share this cake recipe on simpleglutenfreekitchen. This is also a request from a reader, who is planning to have a baby shower for her gluten free friend and, who happens to love mango desserts.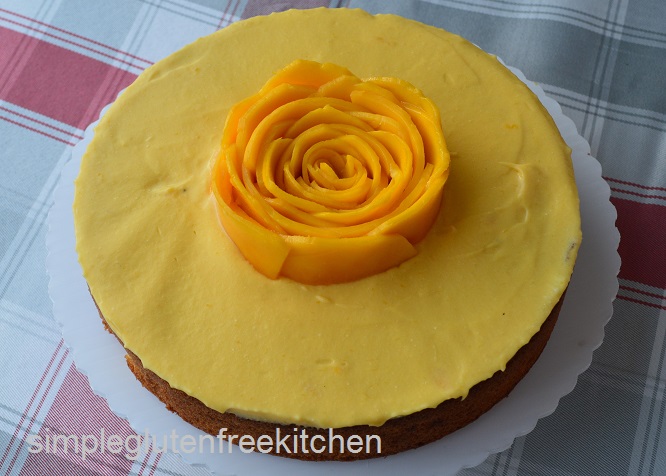 I really wanted to post a recipe for mango cake last year, but time just seemed to have gotten away from me before I had the chance. So, when Mary Jo asked for help with a mango cake and, I spotted some firm, ripe (non-fibrous) sweet mangoes  in the market, I thought it was about time. This is a basic fruit filled cake recipe that allows you to use whatever seasonal fruit you have on hand. I use half nut flour and half brown or white rice flour mix in such cake recipes. Some times I also add a tbsp or two of freshly ground quinoa or sorghum flour for a more whole grain boost. Whichever flour combination you use, just make sure the batter is thick to hold the delicate mango pieces. The batter for this cake should not be too sweet since mangoes provide sweetness of their own. The top of the cake is covered  with mango cream frosting plus served with  mango slices, which in my opinion are important  for more intense mango flavor.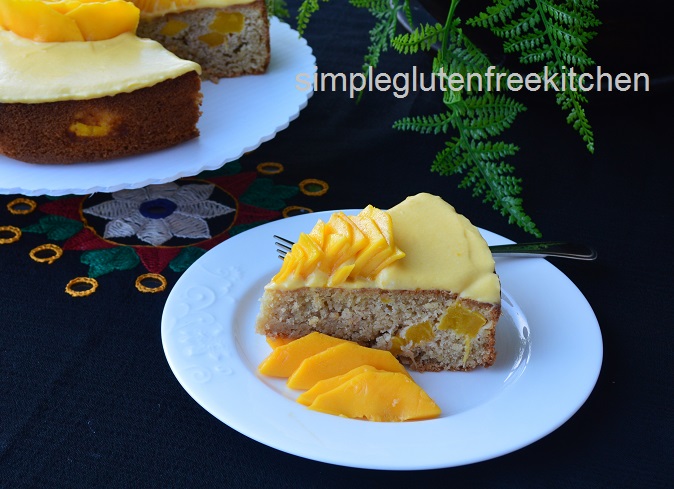 This is a perfect cake recipe for any summertime get together and celebration or just an after dinner dessert.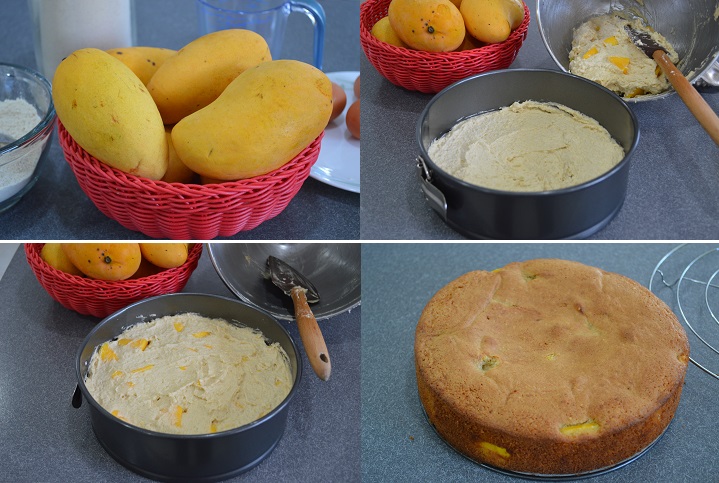 Reader's Request:Fresh Mango Cake
A heavenly mango cake that tastes like summer.
Ingredients
1 cup almond meal
3/4 cup brown rice flour mix (or make it 1 cup and omit sorghum flour)
2 tbsp sorghum flour
1/2 cup sugar
2 tsp baking powder
3 eggs
1/2 cup butter
1.5 cup mango, diced
1 tsp vanilla extract

Mango cream frosting

1/3 cup whipping cream
1/4 cup icing sugar
1/3 cup fresh mango puree (peel, chop and blend fresh mango)
mango slices for decoration
Instructions
Preheat the oven to 350 °F. Grease a 8-9"spring form pan and line the base with parchment paper.
In a bowl whisk together almond meal. brown rice flour mix, sorghum flour (if using) and baking powder.
In the bowl of an electric mixer fitted with the paddle attachment, beat the butter and sugar for 3-5 minutes on medium high speed until light.
With the mixer on low, add the eggs, one at a time then the vanilla and mix until the batter is smooth.
With the mixer still on low, add dry ingredients and mix until just combined (do not over mix). The batter at this point should be thick and fluffy (if not add a tbsp of flour)
Transfer about 1/3 of the batter to the prepared pan. Then add diced mango to the remaining batter and spread it on top.
Bake in the center of a preheated oven for 30 minutes, until the cake is set and a toothpick inserted into the center emerges clean.
Allow the cake to cool in the pan for 10 minutes, then remove on a wire rack and cool completely.
Once the cake is completely cool make the frosting.
In a small bowl whip cream with a whisk until soft peaks form, add icing sugar and whisk some more until stiff.
Gently fold in mango puree.
Spread frosting on the top of the cake, decorate with mango slices as desired.
Keep it in the fridge for 30 minutes before serving.
http://www.simpleglutenfreekitchen.com/2014/05/readers-request-fresh-mango-cake.html
This post was shared on Gluten Free Fridays, Allergy Free Wednesdays, Gluten Free Wednesdays.

Print
You might also like: