The word "Kadhi" should not be confused with  'curry' which means a gravy of onions and tomatoes. They are entirely different dishes with different flavors. Kadhi is a slow cooking of yogurt or buttermilk thickened with besan (chana daal flour) which is later tempered with spices cooked in mustard oil. There are numerous versions of making kadhi and each family has their own preferences and cooking style. In Punjab, where I hail from kadhi is always made with pakodas ( fritters). And those, who have tried punjabi kadhi, agree with me that it taste most amazing and they yearn for more. It is one of the few dishes besides rajmah chawal that I grew up eating mostly for lunch. Served piping hot with steamed rice, papad, pickle and cucumber salad I could not think of more satisfying summertime meal. My mom always made it in double quantity, enough for two meals and it actually tasted better the next day.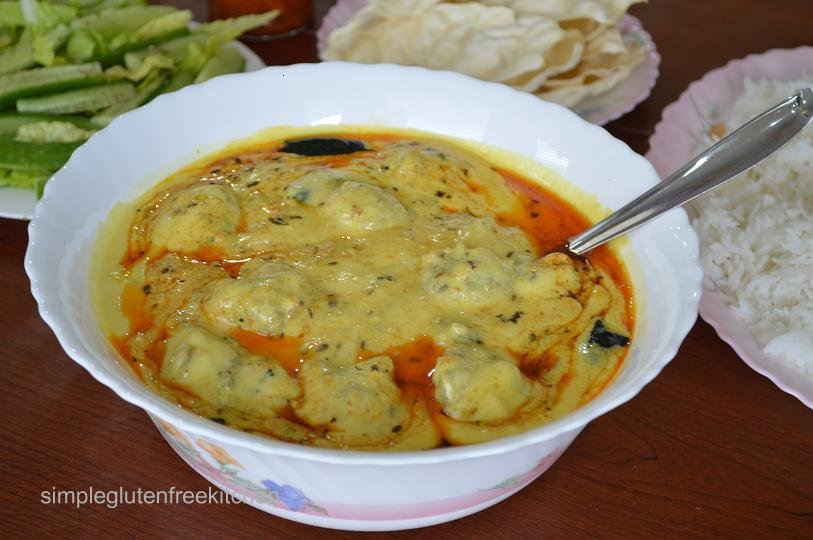 One of the reasons I enjoy Punjabi version of kadhi is because it is thicker, packs a punch and has a real tangy taste to it. To get that proper taste of kadhi, the yogurt or buttermilk used should be sour but does not smell bad. If it is not sour enough, it can be left out of the fridge for 6-8 hours or overnight. The yogurt is then mixed with besan  and cooked on high heat, stirring the whole time until it starts to boil. This is to ensure that the yogurt does not curdle. After it comes to boil, the kadhi is then simmered on low heat until it gets creamy. If the kadhi gets too thick while cooking, water can be added to adjust the consistency.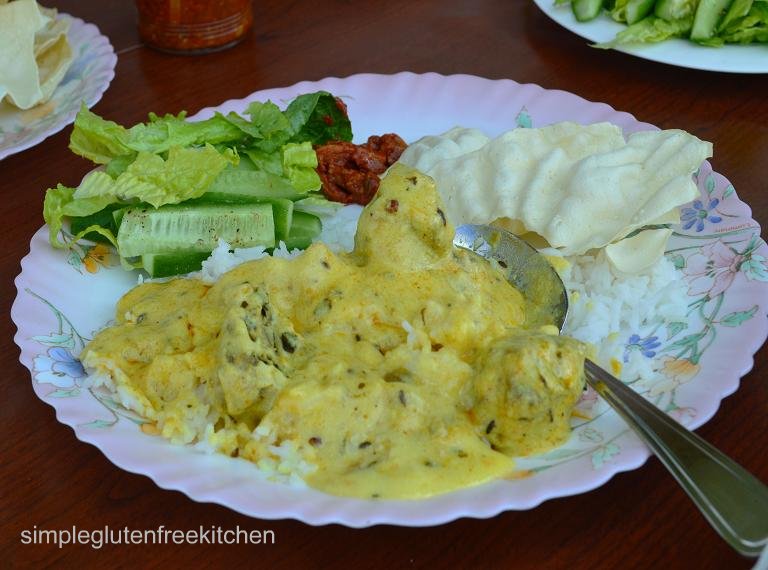 As I said above Punjabi kadhi must have pakodas and they are usually made with onions and potatoes but I prefer to use a mix of different greens or spinach. Once the pakodas are fried they are added to the simmering kadhi to soak in all the goodness. Below is a picture of spinach pakodas I made for kadhi, half of it I froze for later use, though my husband was hoping to get some with evening tea. Actually, the kadhi pakodas are not made crispy so that they get soft in the kadhi and melt in your mouth. I fry them slightly crisp because I soak the pakodas in warm water for few minutes to reduce the oil from deep fried pakodas, before adding them to kadhi. If the thought of frying still scares you, then omit pakodas and just prepare this as plain kadhi.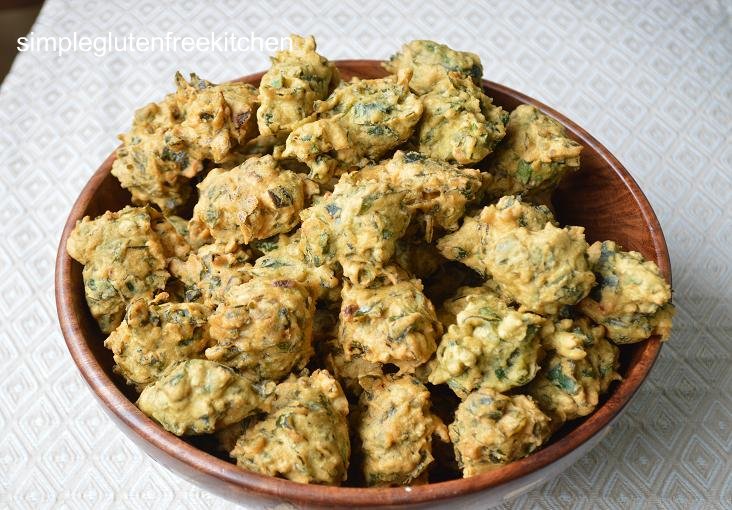 PUNJABI KADHI
serves: 4
Ingredients for kadhi:
Ingredients for pakodas:
1 bunch spinach (just leaves) 5 cups chopped
2.5 cups besan
1 tsp crushed coriander seeds
1/2 tsp garam masala
1/2 tsp red chilli powder
1 tsp minced ginger
1.25 cups water
salt to taste
oil for frying
warm water to soak pakodas
Tempering:
4 tbsp mustard oil
1.5 tbsp ginger and garlic paste
1 tsp turmeric powder
1.5 tsp kashmiri chilli powder
1 tsp crushed coriander seeds
3/4 tsp methi seeds(fenugreek)
2 dry red chilli powder
Method:
Mix all the pakoda ingredients in a bowl to make a smooth batter. Keep aside.
Take buttermilk in a large bowl. Add sifted besan (chana daal flour) and turmeric powder, beat together to get a smooth mixture without lumps. Add water and whisk again.
Pour the yogurt besan mixture in a heavy bottom and wide mouth wok or pot. Place it on high heat, stirring continuously, till it comes to boil.
Reduce the heat and let it simmer uncovered for 40 minutes. Stir occasionally and scrape sides of the wok from time to time.
While the yogurt mixture is simmering, make pakodas. Heat canola oil in a wok.
Drop small spoonfuls of pakoda batter in medium hot oil. Make as many at a time as can float without overlapping each other. Fry till golden brown. Remove with a slotted spoon on paper towel. Repeat till all the batter is used.
Add half the pakodas to to the warm water and let soak for 5 minutes. Squeeze gently to remove water from pakodas and add it to simmering kadhi. Continue cooking for 5-10 minutes until the kadhi reaches creamy consistency but not too creamy since it will further thicken as it cools.
Heat mustard oil to a smoking point, then reduce heat to medium. Add dry red chilli pieces, crushed coriander and methi seeds. Let them pop and get golden (10 seconds).
Add ginger and garlic paste and fry until fragrant and pale brown. Add turmeric powder, rub kasoori methi between your palms and add it to the tempering. Cook for 30 seconds and immediately pour this over the kadhi and mix.
Serve the kadhi with steamed rice.
Note: Though any cooking oil can be used for tempering but the flavor that mustard oil provides can not be substituted. According to  Health Canada, you are not supposed to cook with it because it might be contaminated with argemone oil, a toxic oil which can cause serious illness and sometimes death when consumed. However, Indians have been cooking with it for centuries and I have not heard of any dangerous effects in any way. So, its up to you to make a decision whether to use it or not.

Print
You might also like: