24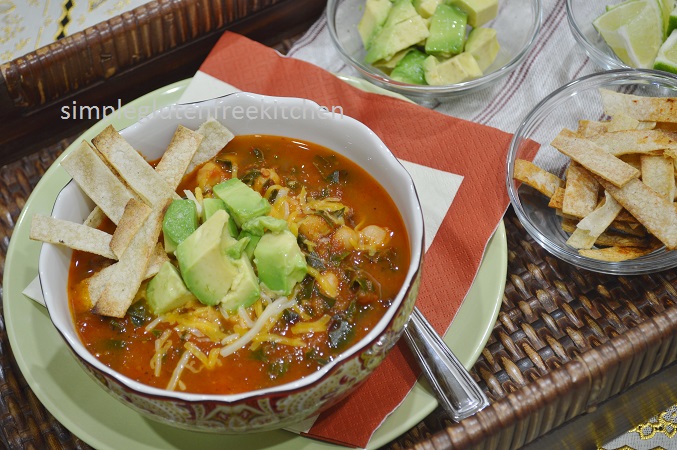 Chickpea Tortilla soup
This flavorful mexican soup is probably one of the best soups I have had at a restaurant. It was so delicious that I tried to duplicate it. I changed a few ingredients around and made tortilla soup with chickpeas, fire roasted tomatoes and chipotle. Garnishing of avocado, shredded cheese and tortilla chips turned the soup into a hearty meal.
Continue Reading
19
Tomato Rasam
Rasam is an appetite stimulating south Indian soup, that is tangy and fiery hot. It can be had strained or just as is for soup or can be eaten along with a bowl of steamed rice. Rasam is a lighter version of sambar, yet with a distinct and appealing flavor. Try it once and I bet you will be hooked!
Continue Reading
19
Five Spice Tomato Chutney
Chutney as you all know is a condiment of Indian origin but its concept has spread worldwide. It can be made from virtually any vegetable or fruit to which spices and seasonings are added. It can be sweet, spicy or sour or have a combination of all three. These taste components make a chutney so delicious that it can practically be eaten with anything from curries to sandwiches and crackers. My recipe today pairs fresh tomatoes and dried fruits with the Bengali five spice blend that tastes simply sublime with cheese or any crusty bread.
Continue Reading
18
Spaghetti With Mushroom Bolognese
A light vegetarian meal tastes flavorful and so much better after all the indulgence. Sometimes my daughter asks if I am thinking to adopt a vegetarian lifestyle. Actually I have considered a few times but I can not do it because I love eggs and eating meat occasionally. However I try to substitute meat with veggies and soy protein whenever possible. As you can tell from the title, today's spaghetti recipe gets a vegetarian makeover.
Continue Reading
10
Fresh Tomato Bisque
While on Cruise this summer I had the opportunity to taste this dish which looked like soup. I got quite curious to know more about it. Upon inquiring from server I learned that it was Bisque,a french origin soup. Bisque is currently used as a general term for thick creamy soup which has been pureed to get an even texture.
Continue Reading