Custard is among one of the dessert that I remember from childhood. It is similar to english pudding, but is eggless. My mom often used to make it for weekend family dinner, get togethers or when she had unexpected guests. It was quick, convenient and always tasted good with seasonal fruits. As for me it is not only a dessert with fruits but also a base for several other desserts.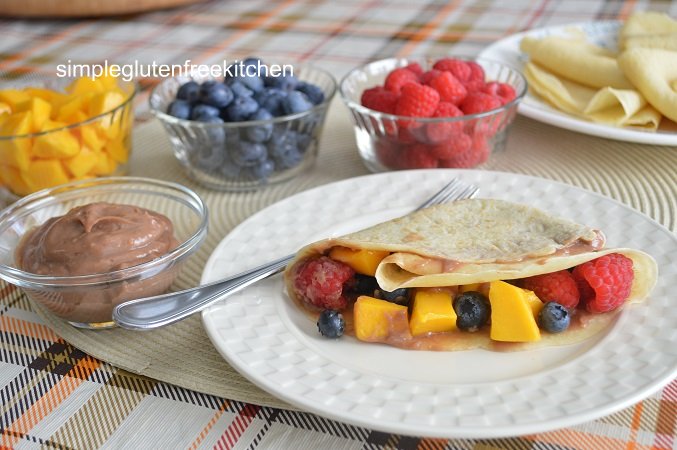 Few weeks ago, I made custard filling for crepes and just for fun I added nutella to it. My daughter, who gets crazy for anything that has nutella in it said, it tastes just like chocolate pudding and finished off the entire (big) bowl. This was a hint that I could share it on blog, but there was one flaw, the texture was thin for a pudding. I made it again with a thick custard. This time it came out just right to be called as pudding- creamy, light and chocolatey.
The great thing about this pudding is that it has ingredients that you already have in your kitchen. The first time I made, I added just nutella and the second time I also added unsweetened cocoa powder. My  daughter preferred without cocoa powder. She said nutella is enough to satisfy a chocolate craving in this pudding however, I didn't mind with or without cocoa.
I want to mention here that I have tried two different brands of custard powder and they both differ in strength and give different texture with the same amount. Which ever custard powder you use, one thing is for sure it give richness to chocolate pudding  without cream or eggs. I urge you to give it a try and you'll be surprised how delicious it is!
Easy and delicious chocolate pudding.
Ingredients
For custard

1/4 cup+1 tsp (Bird's brand) custard powder
625 ml 2% milk
1 packet stevia or sugar to taste

For chocolate flavor

1/2 cup nutella
2 tsp unsweetened cocoa (optional)
2 tbsp white chocolate shavings
Instructions
Make a thick custard following the directions on the package.
Fill a bowl with cold water (tap water is fine). Ensure that the bowl that holds the hot custard is smaller than the bowl containing water.
Add cocoa powder ( if using, you can even add it in the beginning while making custard) and constantly stir custard to mix cocoa powder and also to prevent forming skin.
Once it is cooled add nutella. Mix until well incorporated.
Divide pudding equally in 3-4 bowls.
Refrigerate for 30 min.- 1 hour covering with cling wrap.
Serve chilled chocolate pudding garnished with white chocolate shavings.
http://www.simpleglutenfreekitchen.com/2013/08/chocolate-pudding.html
Linked to gluten free Fridays, Allergy Free Wednesdays and Slightly indulgent Tuesdays.

Print
You might also like: