A few weeks back, I received an email from a reader, who frankly said that I do not have a goat curry recipe on my blog. To be honest, I didn't quite realize that I never posted something that I enjoy eating and have a husband who adores. No party is complete at our house without cooking goat meat. Then almost immediately after reading email I thought I would share a goat curry recipe as soon as I make it next.
Goat meat is a great source of protein and iron and is incredibly lean. Although it is similar to lamb in many ways, goat meat is extremely low in fat content by comparison. Because of this it needs to be cooked on low temperature for a decent amount of time to preserve tenderness and moisture. The slow cooking really makes the sauce tastier and improves flavor and texture of meat. Some people I have met have concerns for the strong taste and smell of goat meat.  I never have experienced this so far but when I cook for them I par boil the meat with bay leaves or use strong spices, which helps to tame down the strong flavor.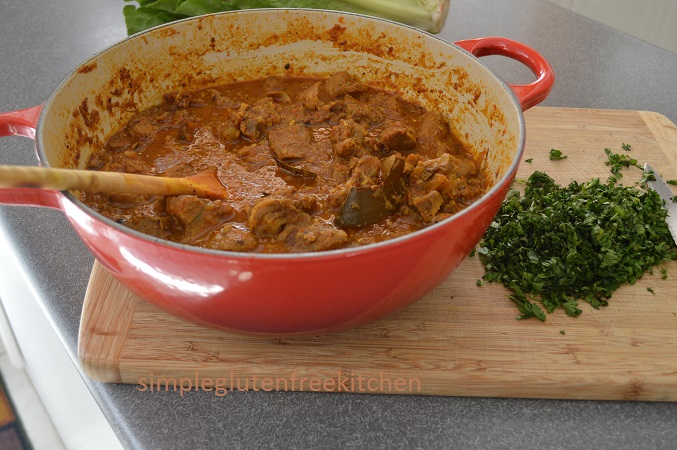 I really like this easy goat curry recipe that my husband makes every once in a while with basic ingredients. And when I say easy, I really mean it. The curry is flavorful and is not heavily spiced. We usually eat it with bajra (pearl millet), sorghum or tandoori roti, however it tastes just as good with plain rice or pulao.
Ingredients
4 lbs bone in goat meat (from shoulder)
4 bay leaves
1/4 cup oil
1.5 cup ground onion
1/4 cup ginger garlic paste
3x1" cinnamon stick
7-8 cloves
1 tsp black peppercorn
1.75-2 cup fresh tomato puree
1.5 tsp garam masala
salt to taste
2 tsp turmeric
4 hot green chillies or 2 tsp red chilli powder
Instructions
Rinse the goat meat. Add enough water to just cover it, add 2 bay leaves and salt and bring it to boil.
Continue boiling uncovered on medium for 10 minutes. Remove any scum that rises to the surface. Using a colander, discard the water and bay leaves. Rinse the meat again.
Heat oil in a pot over medium heat and add the whole spices (bay leaf, cinnamon, cloves and peppercorn). Fry for 20-30 sec. until fragrant.
Add the ground onions and let them turn translucent.
Add ginger and garlic paste and gently fry until it turns golden brown.
Stir in tomato puree, turmeric and chilli powder. Continue to cook, stirring to allow the spices to infuse in onion and tomato mixture.
Now add the goat meat and salt. Coat it with the spice mixture, and cook on high heat for 5-7minutes.
Cover with water (1 cup) and bring it to boil. Reduce heat and simmer covered for 30 minutes or until the meat is tender and the gravy is thick and rich (Stir occasionally and add water to prevent the meat from sticking at the bottom).
Add in garam masala, taste for salt. If the curry is too thick add more water.
Just before serving, garnish with cilantro leaves.
Serve with rice or tandoori roti.
http://www.simpleglutenfreekitchen.com/2013/11/easy-goat-curry.html

Print
You might also like: