So here we are in 2014! First,  I am very excited to start off the new year with  a recipe that I was busy trying in my kitchen. Second,  inspired by a reader's request I have added a new page on my blog to request a gluten free recipe. If you are craving a dish that you don't know how to make it gluten free, I can help to cook up  and post it for you.
Around Christmas, I see Panettone being sold in every other store. I buy two or so for my family and inspite of my being gluten free, enjoy one slice and then pay with upset stomach. I never thought of baking my own because I had the impression that it was difficult to make and there are not many gluten free recipes on the web. However, when I saw Loretta's panettone (on google+) I was very impressed and commented on how much I loved it. She gave me the link to Elizabeth's gluten free panettone to try.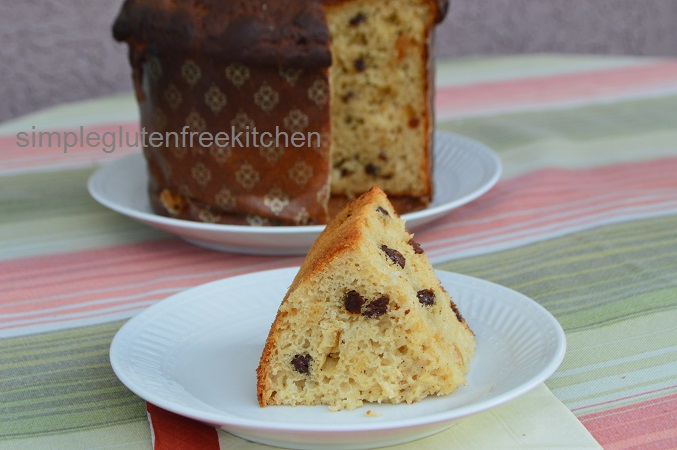 My first two attempts failed miserably. Not only were they unappealing, but they were also dry and heavy. Yet, I was not dissuaded by my failures. I love experimenting and it keeps me little challenged in the kitchen. I rolled up my sleeves and decided to make it again. I was very careful this time in following each and every step and put to use some of the tips I've read on different blogs, particularly Loretta's recipe. I have to say this time I was quite satisfied with the end result. The panettone  was gluten free light, sliceable, well textured with right amount of sweetness and a delicate aroma of vanilla and citrus. It can be kept at room temperature in airtight container for 3-5 days but after third day it starts to get little crumbly. The best way I find with all gluten free breads is to wrap them (sliced) in plastic wrap and place it in freezer and microwave before eating.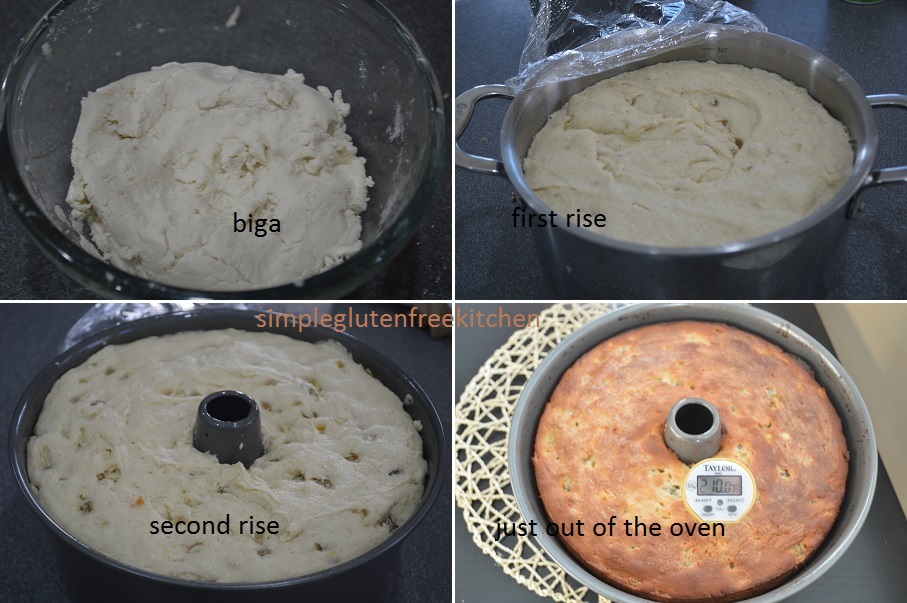 Before I leave you with the recipe here are some tips that would be helpful, if it's your first time. The process is long, but is rewarding in itself. Panettone is made with high gluten (protein) flour which provides structure and stability. However gluten free flours are less robust than their wheat counterparts, so do not keep high expectations. It may not rise as well as traditional wheat panettone but definitely equals in deliciousness. I used Elizabeth's recipe as a guide with minor changes.
QUICK TIPS
In order to get good results when baking gluten free panettone, its best to have a weighing scale, instant read thermometer and a stand mixer with paddle attachment.
Measuring: There can be great variance in gluten free flours with inconsistent measuring. I suggest you measure all flours by weight but if you do not have a scale I have included volume and weight measurements for your convenience. To measure with a cup use 'spoon and level' method as described in this video.
Pre ferment: Traditionally, panettone is made with biga, a starter of flour, water and small amount of yeast, which is fermented for about 8-12 hours. You do not need hot water to activate the yeast. A room temperature or slightly warm water with a thermometer reading of 80-100° F works well.
Proofing: Once the biga is rested and the dough is combined the following day, the next step is proofing for the first rise. It is done at warm temperature, ideally around 74°F. Once the dough is risen to double in size, it is pressed down or folded gently with a rubber spatula to prevent over proofing. Thereafter, the dough is moved to baking and rested in a warm place for second proofing.
Baking: The last step is to bake the bread at 350°F until the internal temperature reads between 207-211°F.
If after following all the steps you fail to get a satisfactory result, don't lose heart, you will get there with practice. The failed bread can still be used for making french toast or (bread) pudding.
Update: November 19,2014
I have been trying since last year (2013)  to get a perfect gluten free panettone, finally I got one. I have updated the photos and the changes I made to get a better crumb and texture.  It doesn't get any better than this!
A traditional Italian sweet bread with gluten free flour.
Ingredients
For the Biga or yeast starter

3/4 cup water, about 80°F
1 tsp active dry yeast
157 g ( 6 oz, about1 cup) white rice flour
1/2 tsp xanthum gum

For the Fruit

1 cup raisins
1/2 cup candied peel (I used orange and lemon)
2 tbsp freshly squeezed lemon juice
zest of 1 lemon
2 tsp vanilla extract
1.5 tsp lemon extract

For the dough -dry Ingredients

248 g brown rice flour (little less than 2 cups)
35 g (1/3 cup) amaranth flour
93 g (1/2 cup +2 tbsp) sorghum flour
86 gm (1/2 cup) potato starch
1.5 tsp xanthum gum
1 tsp baking powder
1tsp salt
4.5 tsp active dry yeast
100g (1/2 cup) granulated sugar

-wet ingredients

1 cup milk (2% or whole), about 100° F
4.5 tsp active dry yeast
3 egg yolks
2 large eggs
2 tbsp canola oil
2 tbsp honey
1 stick (1/2 cup) butter at room temperature
non stick cooking spray
1.5 tbsp milk for brushing the top (optional)

Update: November 19, 2014 - Slight change in ingredients to make a better crumb and tender texture. I reduced the brown rice flour used in the recipe, and instead of using 1/2 cup potato starch I used a combination of starches. Rest of the amount for other ingredients are the same.

215 g ( 1 1/2 cup) brown rice flour
45 g (1/3 cup) tapioca starch
55 g (1/3 cup) potato starch
Instructions
Prepare the biga or the yeast starter:

Combine water and yeast in a small bowl. Stir. Allow mixture to stand until yeast dissolves. Whisk together white rice flour and xanthum gum in a small bowl. Add water and yeast mixture. Stir to combine. Mixture will be thick like dough. Cover with a plastic wrap and let rise overnight at a room temperature of 75°F.

Prepare the fruit:

Combine raisins, candied peel, lemon zest, lemon juice, vanilla and lemon extract in a small bowl. Stir. Cover with plastic wrap and let sit at room temperature so that the flavors meld.

Next day - Prepare the dough

In a small bowl stir together milk and yeast. Allow to stand for 5 minutes.
In a bowl of stand mixer, whisk together dry ingredients.
With the mixer on low speed, add in yeast mixture, egg yolks, eggs, canola oil, honey and the flour. Mix on medium speed with flat attachment until dough is thick about 3-4 minutes.
Add biga. Mix for 1 minute to combine. Scrape down bottom and sides of bowl with rubber spatula.
With mixer on medium speed, add butter one tbsp at a time. Wait for each table spoon of butter to incorporate before adding next tablespoon.
After all the butter is added, mix dough for one minute. Dough should be thick and smooth. Reduce mixer speed to low and add dried fruits. Mix until fruits incorporate through out the dough.
Lightly oil medium bowl (where it has room to double) with non stick cooking spray. Transfer dough to greased bowl. Cover bowl with plastic wrap and allow dough to rise until double in size about 2- 2.5 hours.
Stir dough gently with a rubber spatula.
Generously grease a 12" bundt or tube pan with non stick cooking spray. Spoon dough into pan or panettone mould and smooth top with rubber spatula.
Cover pan (don't cover if using the mould) with with greased plastic wrap and set aside until dough almost reaches the top of pan,about 1 hour.
Preheat oven to 350°F. Brush the top of loaf with milk (if desired). Bake until the internal temperature of loaf reaches 207-211°F, about 45-50 minutes. Loaf will be golden brown. If it gets too dark before the internal temperature reaches 207, cover pan with a piece of aluminum foil and continue to bake.
Invert loaf onto wire rack to cool completely or if you have used the mould then follow the update below.

Update: November 19, 2014

Remove from the oven and pierce metal skewers all the way through the panettone 4" apart and approx 1" from the bottom. Hang the panettone upside down over a large pot and cool completely before cutting.
http://www.simpleglutenfreekitchen.com/2014/01/your-very-own-gluten-free-panettone.html
Linked to Gluten free Fridays, Allergy Free Wednesdays.

Print
You might also like: