I have never met a rice dessert that I didn't like. I had this chocolate rice pudding at a dinner party, and it was so delicious and elegant looking that I found myself craving and admiring days after. So, when I saw a chocolate risotto recipe in Christine Ingram's book I decided to make it with my own little twist by adding orange to it!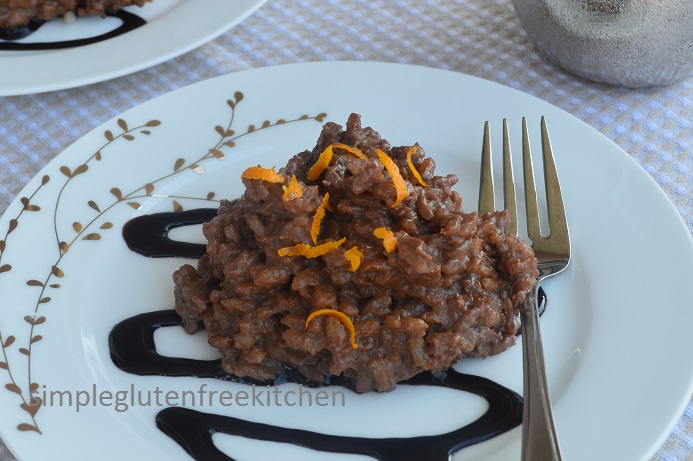 I started by toasting arborio rice in a little butter, and stirring in orange juice. As the rice absorbed the juice, I added warm milk, cooking gently over very low heat, until the grains were softened and became thick and creamy. It was then finished off with chocolate, cream and a touch of orange zest. I used a combination of milk and dark chocolate for added luxuriousness, if you are a diehard dark chocolate lover, go ahead and use only dark.
When I was making this I  really wasn't sure if it was going to turn good. I have baked with orange and chocolate but never cooked anything with it.  To my surprise, it turned out amazing and I was so happy with the subtle and mellow orange flavor in  chocolate risotto. This is a perfect dessert when you have company over  for dinner or for just the two of you on Valentine's day. You can make this ahead  of time and if you choose to do so add warm milk to loosen, as the risotto thickens when it sits. Most rice desserts /puddings are served cold, this you should eat slightly warm.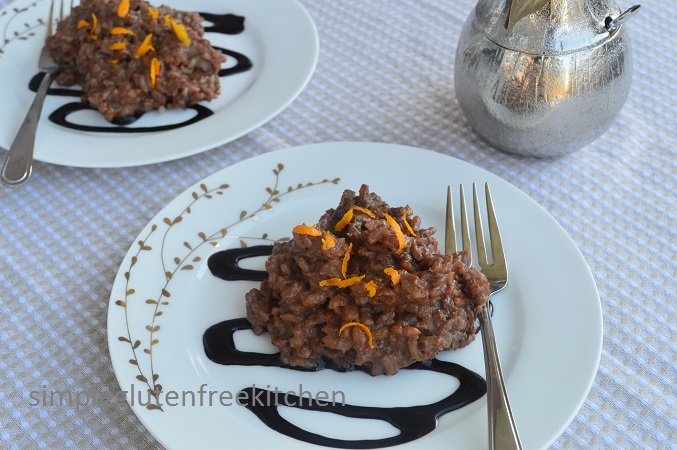 Orange Flavored Chocolate Risotto
A sweet version of creamy savory Italian risotto. Instead of cheese, wine and broth you put chocolate, orange juice and milk.
Ingredients
200 g (1 cup) arborio rice
90 g callebaut chocolate, chopped ( I used 60 gm dark and 30 g milk chocolate)
650 ml (3.25%) milk
125 ml cream
125 ml freshly squeezed orange juice
zest of one orange
1/4 cup packed golden brown sugar
2 tbsp butter
chocolate sauce and orange zest, to serve
Instructions
In a saucepan bring milk to a low simmer.
While the milk is heating up, add 1 tbsp butter to a dutch oven or thick bottom steel saucepan.
Once the butter has melted, add the rinsed arborio rice and stir.
Allow to toast for a few minutes, stirring, then add orange juice.
Once the juice has cooked into the rice, add all the milk and bring to the boil over medium.
Reduce the heat to lowest, partially cover (you do not want the liquid to evaporate too quickly), and simmer very gently for about 20- 25 minutes, stirring occasionally until the rice is very soft.
Stir in chocolate, remaining butter, sugar and cream.
Cook stirring all the time over a low heat for 2 minutes, until the chocolate has fully incorporated.
Remove the pan from the heat and stir in orange zest.
Cover the pan and leave stand for few minutes. The chocolate risotto will thicken as it sits.
Garnish with chocolate sauce and orange zest before serving.
http://www.simpleglutenfreekitchen.com/2014/02/orange-flavored-chocolate-risotto.html

Print
You might also like: