Kale is an amazing winter vegetable recognized for its health benefits, however it's sales are hot in spring or summer-a dollar for a bunch or two. So I thought this might be a good time to share a quick recipe with you.  This recipe works well with virtually any dark leafy green using boiled eggs or paneer or tofu. My in laws are vegetarian, so for them I made it with paneer, however I like it more with eggs.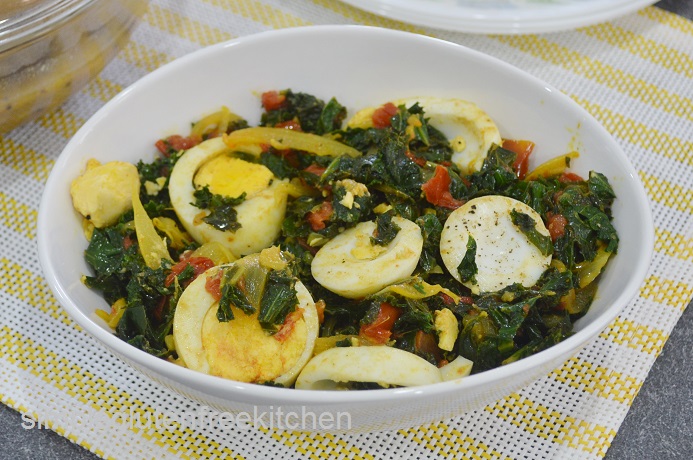 This is really an easy and healthy dish to prepare  for chapati, or a filling for sandwich or besan cheela wrap.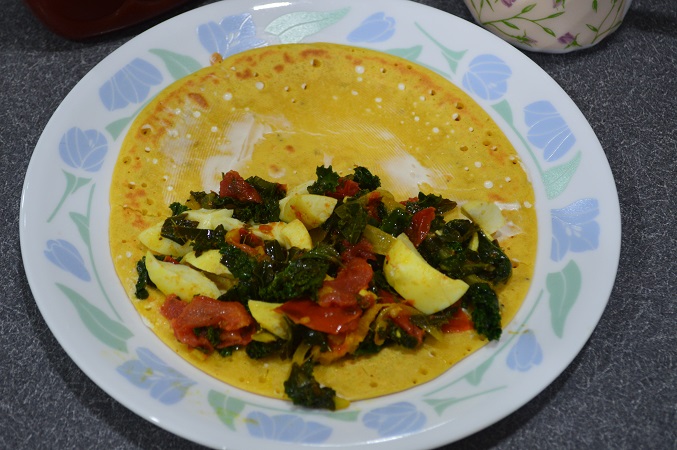 A word of caution for a kale newbie

Kale should be eaten in moderation, as consuming it more may affect health adversely, such as hypothyroidism.  In general cruciferous vegetables are not good for  thyroid patients. Many of us can tolerate them in varying amounts and others not at all. I don't want to confuse or scare you guys. There have been no studies to prove this but the point of writing this is to make you aware that  over consumption of anything is not good, even healthy foods. I had hypothyroidism long before I started eating kale. And since then I don't seem to have any problem, rather I would say when I changed my eating habits and increased physical activity my medication for thyroid has been reduced.  So, my advice for all of you is to not avoid kale but keep variety and moderation in your diet because eating these cruciferous vegetables also have numerous anti-cancer and other health benefits.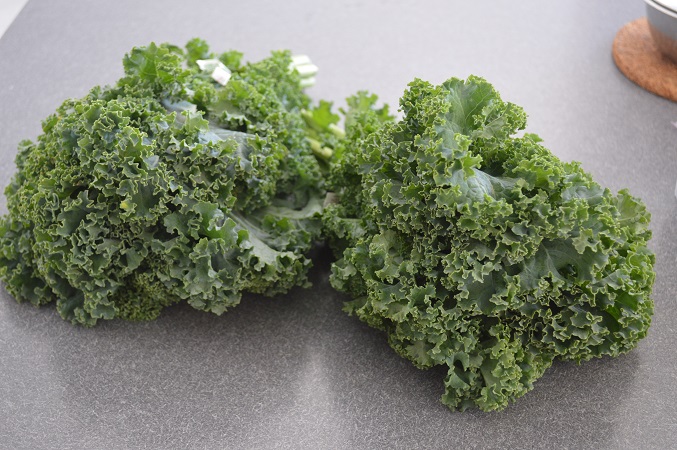 Ingredients
4 large kale leaves
2 (105 g) tomato, chopped
1/2 onion, sliced
1 tsp ginger or garlic, finely chopped
1/2 tsp turmeric
3/4 tsp red chilli powder
salt to taste
3-4 boiled eggs, sliced
1-2 tbsp olive oil
Instructions
Wash kale, remove any thick stems and roughly chop to bite size pieces.
Heat a saute pan over medium heat and add the olive oil.
Saute onion and ginger (or garlic if using) until slightly browned from edges.
Add turmeric, red chilli powder and tomato.
Cook for 1 minute. Stir in kale. Cover and cook for 5 minutes or until leaves are soft.
Add salt, remove from heat.
Add sliced boiled eggs, serve.
http://www.simpleglutenfreekitchen.com/2014/04/kale-and-eggs-sabji.html
Source:
Can the queen of greens be bad for you?
Some good web articles to improve thyroid
Important facts you should know when you are on thyroid medication
3 ways to boost thyroid function

Print
You might also like: