Weather is warming up in Vancouver, and I enjoy spending some time outside, tending and watering the plants everyday in my little garden. It gives me immense pleasure and helps in keeping myself active and busy. Last week the weather was gorgeous and my daughter invited her old school friends over for lunch.  I wanted to serve something simple, speedy and satisfying, which the girls would like. Then, pad thai came to my mind that everyone knows and loves!
Pad thai needs no introduction! It is one of the the most widely recognized Thai dish in the entire world.  It is a stir fry dish of flat rice noodles with some scrambled eggs, crunchy mung bean sprouts, roasted  peanuts that are flavored with a tasty mixture of tamarind, fish sauce and palm sugar.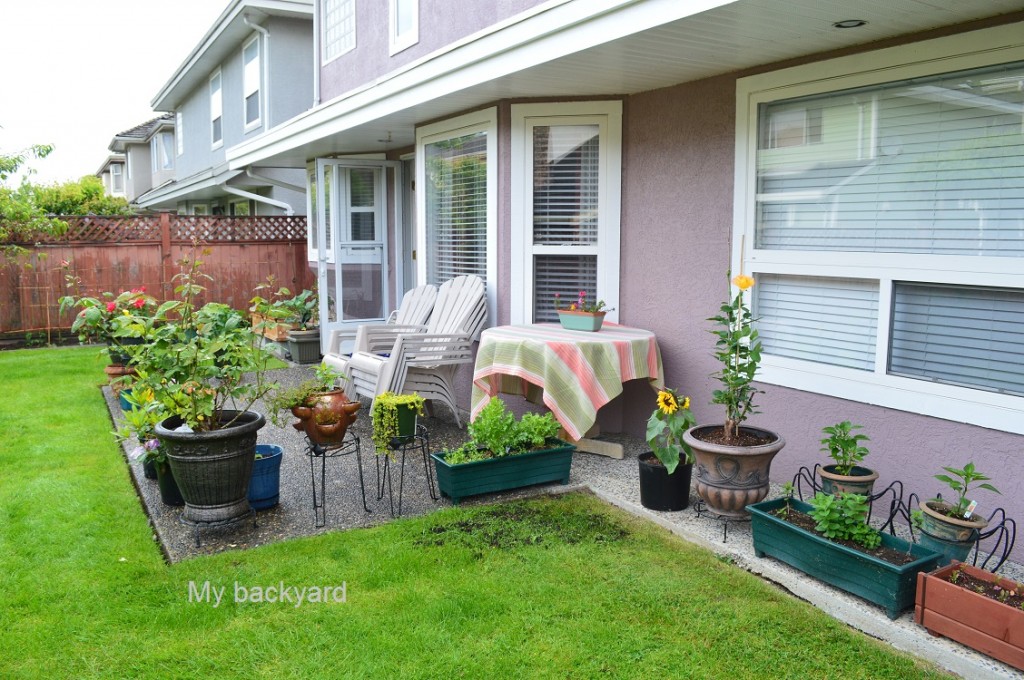 It is one of those dishes that I always order when eating out in a Thai restaurant, not because that I am gluten free but because that, it is just so mouthwatering. After making it several times at home my family says that I make really great pad thai. The textures and flavors of a proper pad thai depends upon the way the dish is cooked and mingled with a perfectly  balanced  sweet, sour, spicy and salty sauce, which makes the dish so delicious.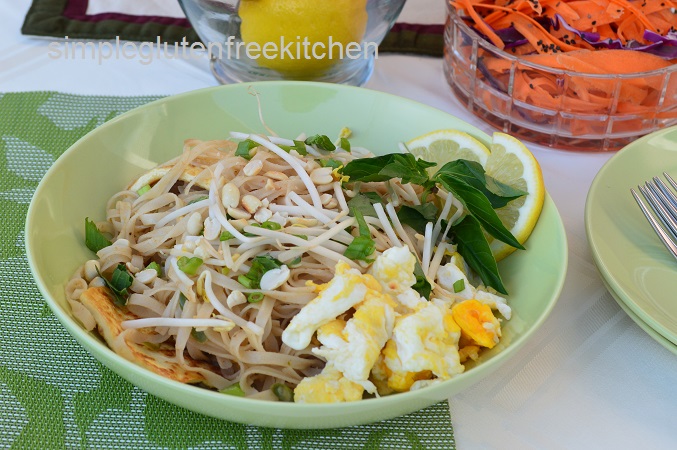 Firstly, rice noodles used for pad thai are flat and of medium thickness. They are not cooked in boiling water as you do for spaghetti.  If you try to boil you will end up in a  mushy mess. Instead the dried noodles are soaked in room temperature water for about 15- 30 minutes (depending on the brand) until soft but not overly so. The noodles are drained well and blanched in boiling water for a moment and and then again drained  (this prevents the noodles from clumping together when stir fried).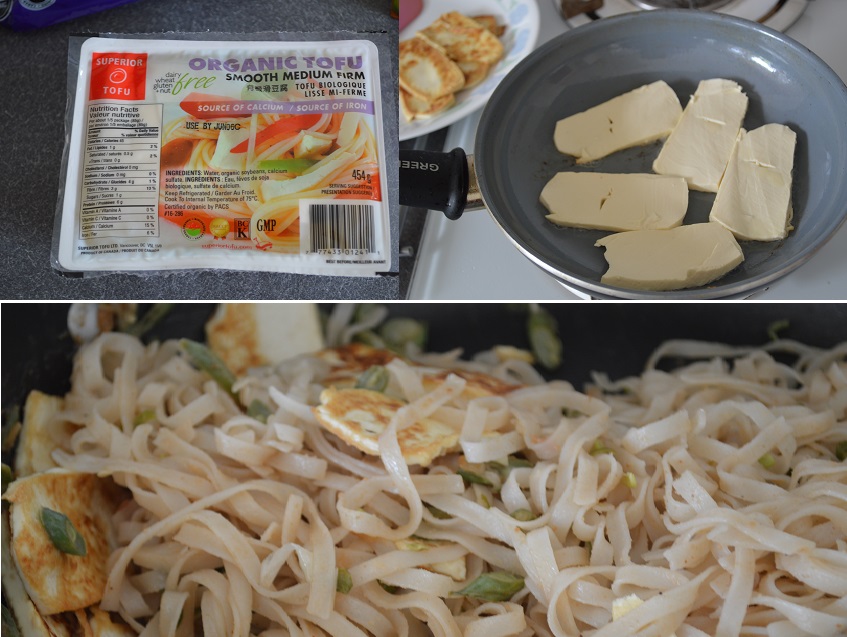 Secondly, the recipe requires a little time for preparation, but the cooking time is very fast, hardly 10 minutes. So it is important that you have all the ingredients ready to go  before you start cooking. The dish is  finished with traditional garnishes of mung bean sprouts, fresh thai basil, chiles, peanuts, green onion and wedges of lemon or lime to create delicious harmony.
There are many variations of this dish, but the recipe I am sharing is the one my family particularly like. You can change up the ingredients to your liking and create your own version.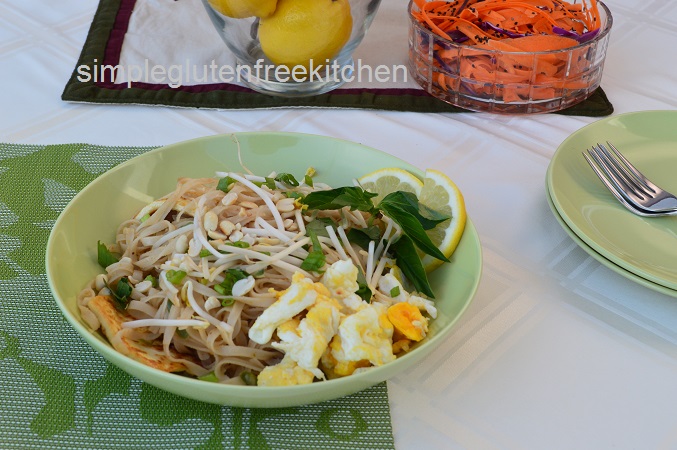 "Pad thai' is a Thai noodle dish made from stir fried noodles, eggs, peanuts, mung bean sprouts and a tasty sauce mix of tamarind paste, fish sauce and palm sugar.
Ingredients
283 g (10oz) rice stick (banh pho)
35 g seed less tamarind, dissolved in 1/3 cup warm water and strained
1/4 cup peanut butter (optional)
2 tbsp fish sauce
1/2 -3/4 cup chicken broth
1/4 cup brown sugar / palm sugar
4 tbsp canola oil, plus more for browning tofu
1 cup mung sprouts
115 g green beans, sliced at angle
1 tbsp garlic, minced
1/4 cup thai basil, roughly torn
3 green onion, chopped
3 fresh red or green thai chilies, chopped
1 450 g medium firm tofu, sliced
4 eggs
1/4 cup unsalted peanuts
Instructions
Dry fry the unsalted peanuts in a pan until they're slightly browned and fragrant. Ground roughly.
In a medium bowl, whisk fish sauce, peanut butter (if using), brown sugar and strained tamarind. Set aside.
Lightly oil a cast iron or non stick pan, heat it on medium. Add a bunch of tofu slices without overlapping. Cook on both sides until slightly browned. Cook the remaining slices by adding oil as needed.
Soak rice noodles in room temperature water for 15 minutes, until just pliable (the soaking time will vary according to the brand). Meanwhile bring a pan of water to boil. Drain the noodles well and blanch them in boiling water for a moment and drain once again.
Heat 2 tbsp oil in a large wok, add garlic and green beans. Stir fry until tender and beginning to color. Transfer to a bowl, leaving behind as much oil as possible.
Crack the eggs into the wok and scramble gently, cook until just set, about 1 minute.
Transfer to a bowl and set aside.
Heat the remaining 2 tbsp oil in the wok over high heat. Add the softened rice noodles and fry for about 30 seconds.
Add the chicken broth and the fish sauce mixture. Cook tossing occasionally until the noodles have absorbed the liquid, about 4-6 minutes. Check the seasoning.
Add the tofu, green beans, chilies and torn basil leaves, toss a few times.
Divide among plates or bowls.
Garnish each serving with some scrambled egg, mung sprouts, peanuts and green onion.
Serve hot with lemon wedges on the side for squeezing over the noodles.
http://www.simpleglutenfreekitchen.com/2014/05/pad-thai.html

Print
You might also like: