I can't express enough how much I adore roulade. It's light, creamy and a versatile dessert. You can fill it with whatever you want. In warm weather I like to fill the roulade with ice cream. Not only is it a simple and an elegant dessert for  a special occasion but is also incredibly easy to make for an everyday summer treat!  It can be assembled and frozen a week or two in advance until you need it and can be thawed in the refrigerator for 20 minutes before serving.
I find that hazelnut meal adds loads of flavor in cakes with chocolate. So the sponge cake for the ice cream roulade is made with dark chocolate, hazelnut meal and cornstarch in addition to eggs.  It makes a rich, yet light base for an ice cream filling of  white chocolate and raspberry. How cool! I have never gone to length of making my own ice cream for a cake like this, but if you want to, go for it. When spreading the ice cream filling on the cake make sure it is soft enough to handle, leave about an inch around the sides and the edge nearest you and about 2 inches at the edge furthest from you. This will prevent the filling from squishing out as you roll the cake.
Try making ice cream roulade this summer, it will make for an interesting addition to your gluten free dessert repertoire!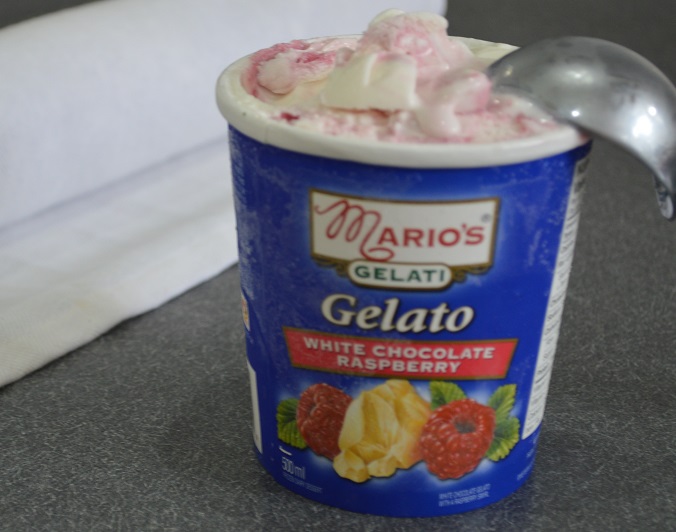 Raspberry Chocolate Ice Cream Roulade
This delightful chocolate ice cream roulade is a fabulous finale to a summer meal.
Ingredients
For roulade

34 g (1/3 cup) hazelnut meal
2 tbsp corn starch
112.5 g (4 oz) dark chocolate
72 g (1/3 cup) sugar
4 eggs
cocoa powder for dusting

For the filling

500 ml white chocolate raspberry ice cream
raspberries
Instructions
Preheat the oven to 350°F. Grease a 13x9" jelly roll pan and line it with parchment. Grease the parchment.
Melt the chocolate in microwave or in a heat proof bowl set over a pan of simmering water.
In a bowl whisk hazelnut meal and corn starch.
In a separate bowl, whisk the egg yolks with sugar until thick and pale. Stir the melted chocolate and the flour into the yolk mixture.
Whisk the egg whites in the bowl of an electric mixer until stiff.
Stir a quarter of the egg whites into the yolk mixture to lighten it, then fold in the remainder.
Pour the mixture into the prepared pan and spread it gently.
Bake for about 15 minutes, until the cake is just firm.
Turn it out on a parchment paper, which has been dusted with cocoa powder.
Leave to cool for 5 minutes, then peel away the lining.
Roll up the cake tightly, encasing the parchment (greaseproof) paper. Leave to cool completely.
Unroll the cake, spread the ice cream (if you want a raspberry center in the roulade, make a line of fresh raspberries on the edge nearest to you ).
Gently roll the cake from the narrow end using the paper to help.
Slide the roulade off the paper lined baking sheet and onto a long plate that is freezer proof. Cover and freeze overnight.
Transfer to the refrigerator 20 minutes before serving. Cut into slices and arrange on serving plates with the raspberries.
http://www.simpleglutenfreekitchen.com/2014/06/raspberry-chocolate-ice-cream-roulade.html
Just want to let you know that I recently ( about 2 months) joined flip board and I love it!
If you are new to simpleglutenfreekitchen, or are a regular visitor here, please consider subscribing for free to my blog (if you haven't) and Flip board magazine. It is a place where I compiled all my food posts into one magazine. You can flip through pages as if you are flipping through a magazine.
To follow you need to download the google currents app for free & subscribe to simpleglutenfreekitchen magazine for free-that's all!. Here's the link  http://flip.it/qFs6N  or go directly from my blog by clicking  read magazine.
Once subscribed, you can view the magazine on your desktop.  If you wish,  you can also like  my posts by tapping the heart ♥ (this can be done only on your smart phone & tablet)  or flip a post (by clicking + ), if you have a flip board.
Many thanks for your support!

Print
You might also like: