Last week I noticed that all of Anne' blog post photos had disappeared. Seeing this reminded  me of my own plight six months ago. So, before I talk about today's recipe, which as you can see is a wonderful oatmeal cinnamon raisin bread for your breakfast or snack, I want to share my reason of moving to my own domain.
When I joined Google+ I noticed that I already had pictures in my public albums that I have not created.  I learned later that all blog spot blogs photos are automatically stored in Picassa. It was all so confusing because I did not even have a picassa account. I immediately made two (thankfully only two) of my albums private and deleted some of the pictures. Little did I know that this action would also delete pictures on my blog. I did not notice my missing pictures until I wanted to share one of my old recipes on Google+. It was disheartening to see my photos gone.  I checked few other posts and they did not have photos either. Then another problem arose. I found out that whenever I create a new post, my photos did not save onto the drafts, even though they showed up on my blog. Even my saved and already published drafts had no photos. This drove me crazy. After googling and reading on blogger forums I realized my mistake that even if I now make the albums viewed to public, it will not recover what I lost.
I tried to re upload the pictures but the text in my draft posts start moving around with the cursor. It became a headache and took me hours to fix. Even now some of my blog Spot photos and text are not properly aligned. You can check one here. When my husband saw me struggling uploading pictures he suggested me to move to word press. I could have moved a year earlier because I had the option to do so (courtesy of my husband), but I was quite happy with blogger at that time. So after much contemplating over the issue eventually I moved to word press. However, even after moving to word press I still could not fix my pictures. If you see some of my old posts you will notice there is  no proper spacing between the text and the first photo.
Although I am not a technological person, its been two months and I am doing good and love word press. There are many reasons for loving it but I will say just one, that WP blogs are more SEO friendly. You do not lose ranking or general traffic to your blog after moving otherwise I would not have received emails, ping backs and comments on specific recipes. However, the sad part is that I did lose some of my old blogger friends

For word press reader followers  it is very important  to follow by Email, Google+, Twitter or RSS feed. There is only one thing every blogger wants: Readership. It allows you to connect with people by what you love doing it. I myself don't comment on large number of blogs and that's why I don't expect as much. I want to assure my dearest foodie friends  that I have subscribed to their email notifications and for someone like me who posts only 4-6 times  a month, you should consider subscribing. This will let you receive my latest content as soon as I publish.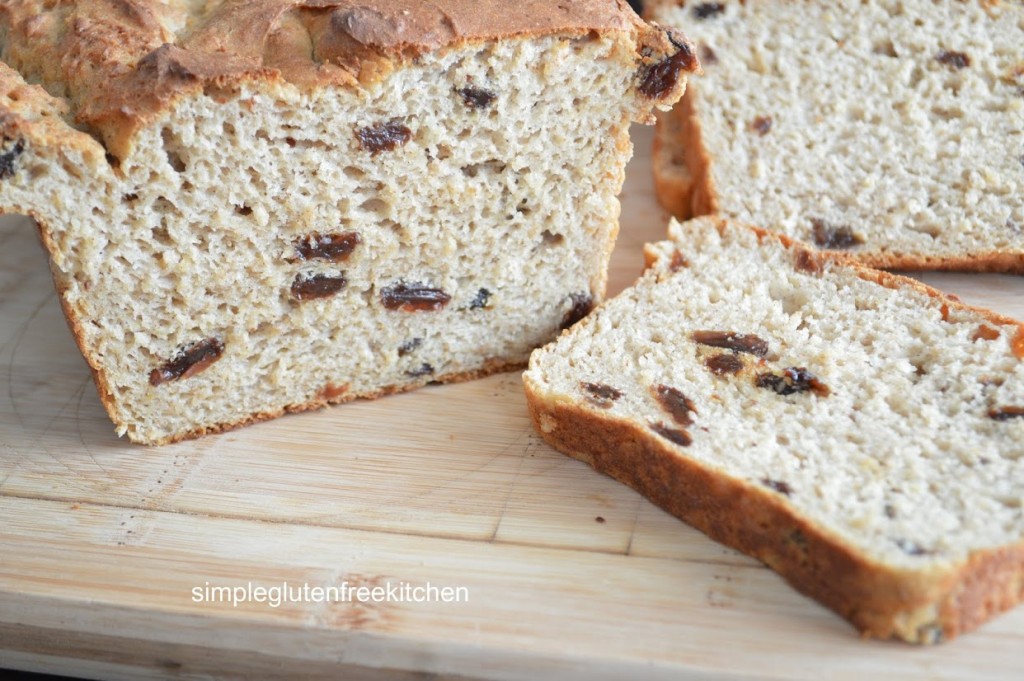 I am not accustomed to writing long blog posts but when I have to talk on some kind of issue I can go on and on. If anyone reading my posts arrived here via search engine you don't necessarily have to comment but feedback is always welcome, if you try this bread. Make sure you before you leave, subscribe to my posts for wonderful  recipes which are not only gluten free but also good for your gluten eating family and friends.
Without any further ado, I come to  my recipe.  If you love cinnamon, raisins and oatmeal then I hope this bread can become a family favorite!
What makes this bread so great, you may ask?
Well, first of all its gluten free, second its  crusty on top, soft and moist inside and third you can enjoy the taste of freshly toasted slice with butter. Even your house smells wonderful while it bakes.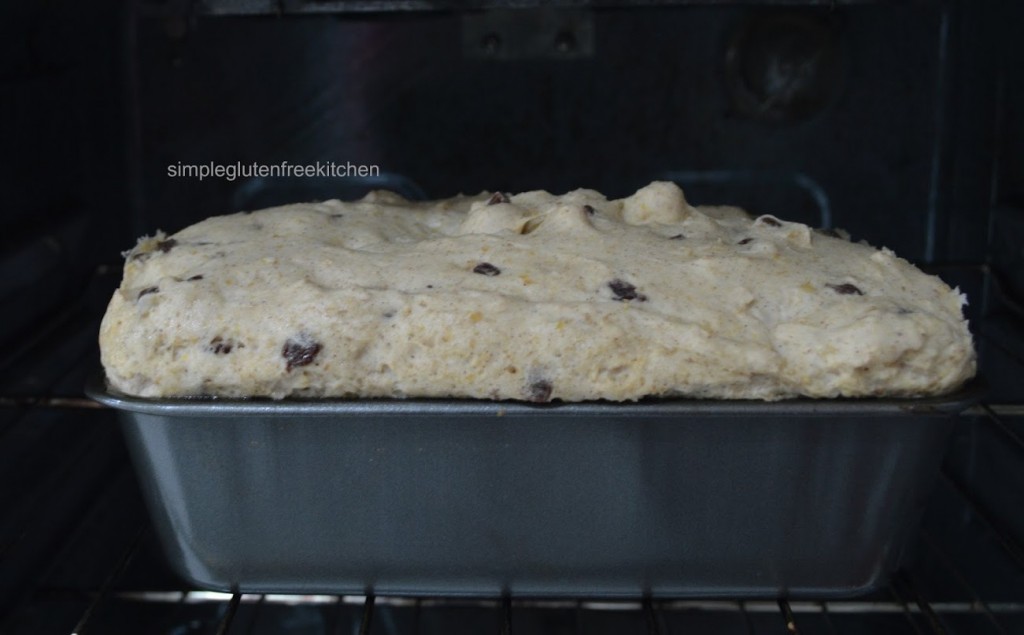 OATMEAL CINNAMON RAISIN BREAD
Ingredients:
48 g (1/2 cup certified gluten free rolled oats
140 g (1 cup) raisins
140 g (1 cup) brown rice flour
30 g (1/4 cup) amaranth flour
35g (1/4 cup) golden flax meal
25 g (1/4 cup) milk powder
44 g (1/4 cup) potato starch
35 g (1/4 cup) tapioca starch
2 tbsp sugar
2 tsp xanthum gum
2 tsp quick rise yeast
3/4 tsp salt
2 tsp cinnamon
2 tbsp canola oil
2 tsp apple cider vinegar
2 eggs
1 cup hot water+ 1/2 cup luke warm water
Method:
Place oats and raisins in a bowl and cover with 1 cup of hot water.  Set aside and soak for at least 10minutes.
In a large bowl mix all the dry ingredients and set aside.
In the bowl of a stand mixer with paddle attachment beat eggs for  30 seconds. Add in canola oil, apple cider and luke warm water. Let it mix on medium speed until well blended.
With mixer on it lowest speed, slowly add the dry ingredients until combined.
Add the soaked oats and raisins with all water to the wet flour mixture. Turn the mixer on low speed. Once combined stop the mixer and scrape the bottom and sides  of the bowl with a rubber spatula.
With the mixer on medium speed, beat for 4 minutes.
Spoon the mixture into bread pan. Let rise, uncovered in a warm oven(150° f ) for 45 minutes or until it has reached the top of the bread pan.
Bake bread for 25 to 35inutes or until nicely browned and the loaf sounds hollow when tapped on the top.
Remove bread from the oven and leave in the bread pan for 10 minutes. Remove from pan and cool completely on rack before slicing.

Print
You might also like: