I start off the New Year with one of my favorite and super easy recipe that you can make it in 5 minutes. Yes, you read it right, just 5 minutes…provided you have all the stuff ready. I made this light breakfast yesterday after a night of wine and dine on 31st December. Poha is a common light breakfast item in most parts of India. The preparation might be different depending on the region and taste. I am making a Maharashtrian version which is quite regular  in my home.
Poha is  flattened or beaten rice in the form of flakes available in varied degrees of thickness. I am using  medium thickness flakes for this recipe as the thin kind become too mushy when rinsed under water and thicker variety needs to be soaked little longer. The uncooked flattened rice is called 'poha' and the cooked savory dish is also called 'Poha'. It is not only rich in nutrients but also hearty and amazingly satisfied dish which can also be served as a snack at any time of the day. It is perfect for those  unexpected guests who drop by your home for tea. or when you have limited  time for breakfast or lunch or dinner. You can even pack poha for a  school lunch and take it to picnics. I don't know what else to say  other than this that a recipe like this is great to have it in your repertoire. I make poha with mild spices and peanuts add a nice crunch to its otherwise soft texture. The addition of mango takes this dish to a whole new level.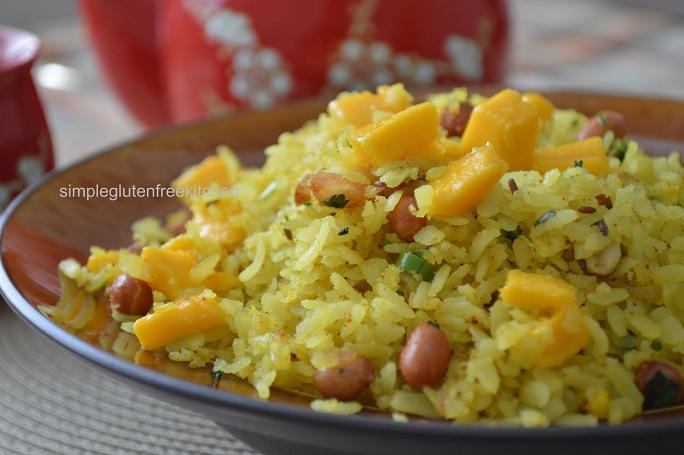 So let's get started!
Quick Notes:
Soak medium thick poha for 4-5 minutes or rinse under running water in a sieve. The idea is to remove impurities or dirt and let the poha absorb sufficient water but should not turn into a mush. Its a very quick dish and all the ingredients go one after the other. We only like peanuts and coconut in poha hence I did not use any vegetables but you can add peas, potatoes and chopped carrots for a great brunch.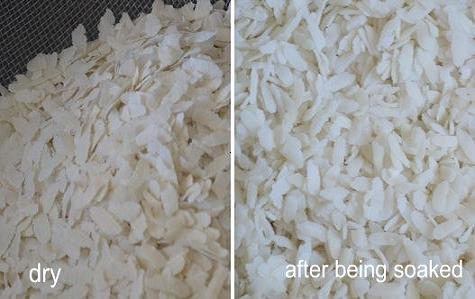 POHA
Serves: 2
Ingredients:
1 cup cheewra/ chivda
1/4 cup raw peanuts
1/8 cup thinly sliced onion
1/2 tsp cumin
1/2 tsp turmeric
1 green chilli, chopped
1/8 cup chopped cilantro
2- 3 tbsp diced haden mango
few curry leaves (optional)
1 tbsp lemon juice
2 tbsp oil
few small pieces of dry coconut (optional)
1/2 tsp sugar
salt to taste
Method:
Soak cheewra in water for a couple of minutes. Drain all the water, set poha aside.
Heat oil in a pan on medium heat. Add cumin and curry leaves(if using).
After they start to pop add peanuts and fry for 30 sec.
Add coconut pieces and sliced onions. let the onions cook until soft and translucent.
Add turmeric, salt, sugar and poha. Stir.
Cook it on low medium heat for 4 minutes, stirring gently.
Add chopped green chilli, cilantro and lemon juice. Transfer to a serving dish.
Garnish with chopped mango pieces and serve warm with tea

Print
You might also like: