If you are on a eating healthy wagon and salad is one of your choice, think wisely. They can be quite deceiving by the amount of 'goodies' that we add in the form of cheese, croutons, dressing and the greasy meat. Although some of these items do provide some protein and other nutrients, they also tend to be higher in calories and fat.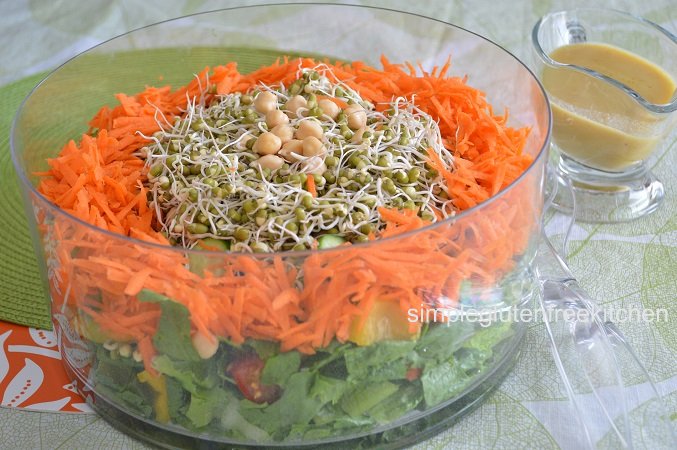 Salads in Indian cuisine are very simple, light and healthy. They are mostly vegetable and bean sprouts based, no cheese, no croutons and the concept of dressing is not at all popular. A dash of salt and pepper with some lemon juice is all that is more commonly used but I experiment with various homemade salad dressings to keep variety in my salads.
The day after my husband's birthday we were invited to a friend's house for  barbecue dinner. That friend needed someone to bring salad and dessert, I offered to bring salad as I had a batch of sprouted beans in my fridge. They were not sufficient for 10 adults, I combined it with few other things and a hearty and flavorful salad was born.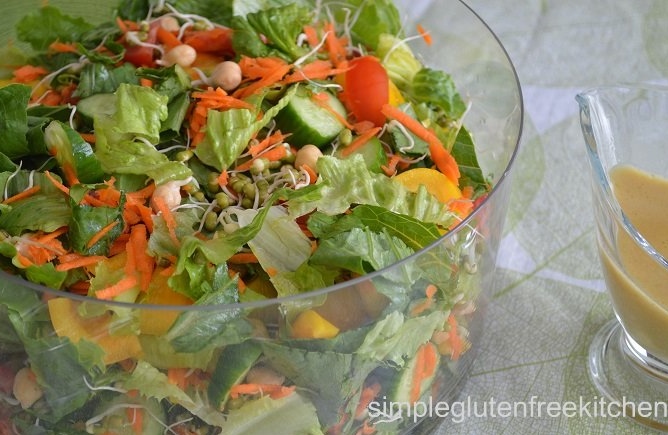 As I said above I love to experiment with salad dressings, mixing and matching ingredients, for this salad I made lemon Dijon dressing, taking equal amount of every ingredient that I used. When I tasted it was a bit too sharp and I realize that not everyone loves Dijon  so I added vegetable stock and  lemon juice to cut back the sharpness.
With a sweet and tangy dressing this salad is an impressive combination of  crunchy textures and flavors.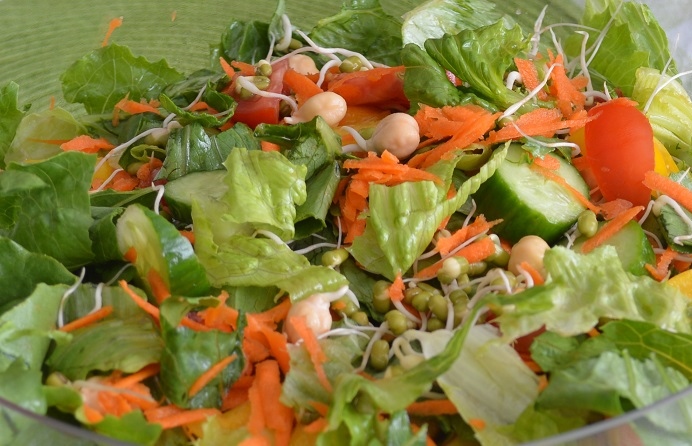 Bean Sprouts and Vegetable Salad
A crunchy, filling and super healthy salad.
Ingredients
For Bean Sprouts and Vegetable salad

2-3 cups sprouted mung beans and chickpeas
1 bunch romaine lettuce,
5 wine tomatoes, quartered
2 cukes, thickly sliced
1-2 yellow bell pepper, cut 1" pieces
2 carrots, grated

Lemon Dijon dressing

1/4 cup Dijon
1/4 - 1/3 cup lemon juice
1/4 cup liquid honey
3 tbsp vegetable stock (optional)
1/4-1/3 cup olive oil
salt and pepper to taste
Instructions
Tear off any bruised or bad parts of romaine leaves.
Wash head under running water over the outside and in between the leaves or cut leaves and wash each leaf separately.
Tear into bite size pieces and spin dry in a salad spinner.
In a large salad bowl, mix torn romaine lettuce, quartered wine tomatoes, bell pepper pieces and sliced cukes.
Add in sprouted mung beans, chickpeas and grated carrots. Set aside.
Whisk first 4 ingredients under dressing in a bowl or blender on low speed.
Slowly add in olive oil mixing until emulsified.
Add salt and pepper to taste. Use immediately or cover and refrigerate until required.
Notes
You can get sprouted beans from a specialty stores or sprout your own by following this method. You can sprout any bean following the same method. But the sprouting time will vary with each bean.
http://www.simpleglutenfreekitchen.com/2013/08/bean-sprouts-and-vegetable-salad.html

Print
You might also like: