I don't know about you but I don't like when my cake cracks on top. Well may be because 90% of the time I don't frost them or sprinkle with sugar. Basically, all my cakes end up as a snacking cake because of no frosting. 
A few Sunday's ago my daughter and I were craving some real good chocolate cake and I decided to make the one which a google friend  had shared with me. I followed the recipe as closely as I could, and got a delicious cake but with a cracked top.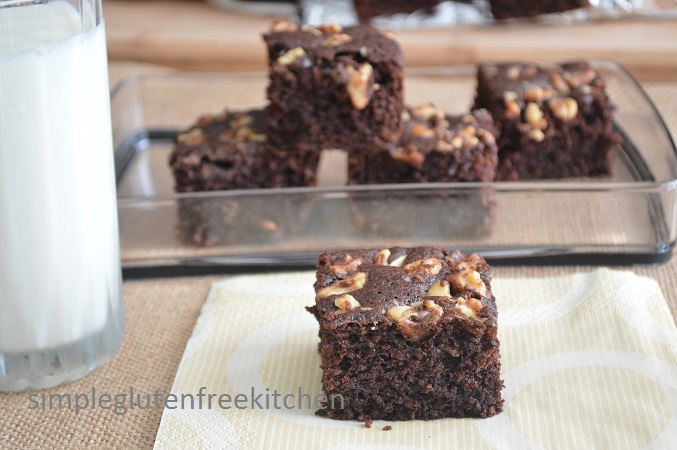 We did however enjoyed the warm slice of cake with ice cream and toasted walnuts on top. When I made the cake again, I made some adjustments. I did not only get a non cracked cake, I got a flat cake.
I like to add little grain based flour to all my nut flours because cakes made with nut flour tend to be dense and moist  which is good, but they get super moist if kept for few days on room temperature. This cake  has olive oil and together with almond meal, it makes the cake more tender, grain flour help stiffen the batter and thus firm up the cake. It still retains the lovely soft texture with  lots of character and keep moist for days.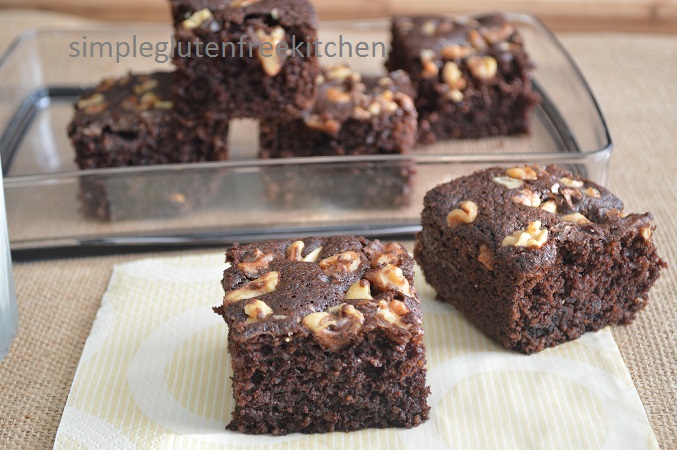 The cake was finished with a layer of walnuts on top, which makes this chocolate cake taste and look more like a brownie.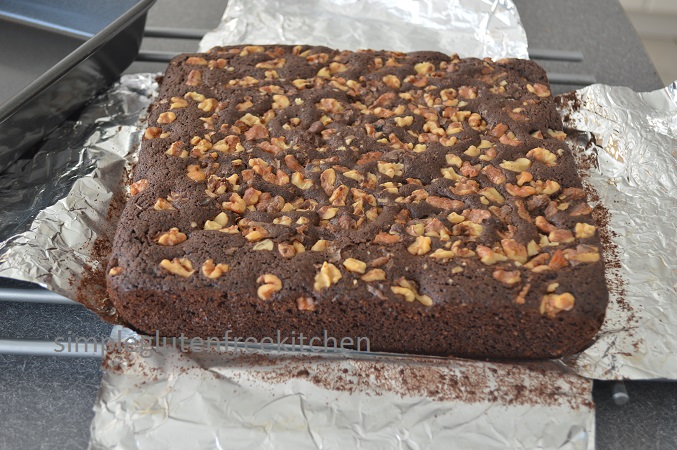 Chocolate Walnut Snacking Cake
Satisfy your chocolate craving with these decadent chocolate walnut snacking cake.
Ingredients
1 cup walnuts, chopped and toasted
165 g (1.5 cups) almond meal
65 g(1/2 cup)brown rice flour mix
3 eggs
200 g (1 cup) sugar
2/3 cup pure olive oil
125 ml (1/2 cup) boiling water
6 tbsp cocoa powder
2 tsp pure vanilla extract
1 tsp baking powder
1/2 tsp baking soda
a pinch of salt
Instructions
Preheat oven to 325° F. Line a 9" baking pan with foil, allowing the extra foil to hang over the edges of the pan. Lightly spray with olive oil, set aside.
Whisk cocoa powder in boiling water until you have a smooth paste.
Whisk in the vanilla extract, then set aside to cool a little.
Combine almond meal, brown rice flour mix with baking powder, baking soda and salt in a small bowl.
Put the sugar, olive oil and eggs into the bowl of a free standing mixer with the paddle attachment (or other bowl and whisk arrangement of your choice) and beat together vigorously until you have a pale thickened cream.
Turn the speed down and pour in the cocoa mixture, beating as you go, and when all is scraped in, slowly tip in the flour mixture.
Scrape down, and stir a little with a spatula, then pour into prepared pan.
Scatter chopped toasted walnuts on top and gently press with a toothpick or your clean finger into the batter.
Gently tap the filled cake pan on the counter 2-3 times to release any air bubbles in the batter. Bake for 35-40 minutes or until toothpick inserted into center comes out mainly clean but with a few sticky chocolate crumbs clinging to it.
Cool completely in pan on wire rack.
Remove cake from pan using foil.
Cut into 16 squares.
Notes
http://www.simpleglutenfreekitchen.com/2013/09/chocolate-walnut-snacking-cake.html
Shared at Allergy Free Wednesdays, Slightly Indulgent Tuesdays, Gluten free Fridays

Print
You might also like: