Now that summer is winding down and fall is just around the corner. I realized I haven't  done eating and cooking all that summer has to offer. After few showers this week, when the weekend turned out nice and  warm, I decided to get outside and do some roasting.
In India, when the first rain comes after scorching heat "bhuna bhutta" (roasted corn over coals) was among my favorite thing to eat. Things haven't changed, I still love to eat it, but now I roast it on a gas or electric grill. It does not taste the same but isn't bad either, rubbed with  lemon wedge that has been dipped in a mix of salt and black pepper. Today, I  grilled some corn on the cob and  used it  in a quinoa salad.
Quinoa is a versatile grain that has replaced pasta and rice in my daily meal and I have learnt to mix it with other vegetables and beans for a heartier side or a main course or a lunch to go. Besides  roasted corn, I  picked zucchini , beans, avocado, herbs to add plenty of fiber and summer flavor in quinoa salad. Then I just tossed everything in the balsamic vinaigrette.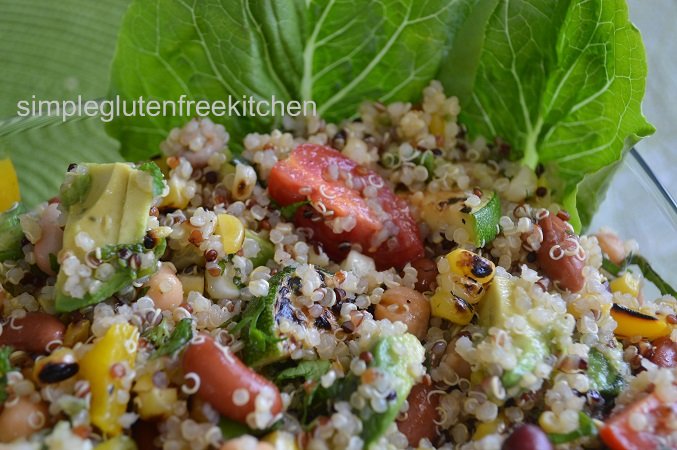 Quinoa Salad with Beans, Roasted Corn and Vegetables
This high fiber quinoa salad is a perfect complement to any main course, especially summer barbecue.
Ingredients
Salad

3 cups quinoa, cooked ( I used 2 cups white and 1 cup mix colored quinoa)
2 large corn on the cobs (to make 1.5 cup roasted corn kernels)
1 can mixed beans, rinsed
2x5" zucchini, sliced 1 cm thick
1 yellow pepper, quartered lengthwise
1 cup grape tomatoes, quartered
1 avocado, diced
1/2 cup (heaped) chopped parsley, mint and thyme
1 green chilli

Dressing

3 tbsp white balsamic vinegar
3 tbsp olive oil
salt and black pepper to taste
Instructions
Heat up your grill. Husk corn on the cobs, making sure you remove all the silk. Throw the cob onto the grill and turn as each side chars blackish brown. Let it cool and slice off the kernels.
Grill zucchini and yellow pepper until tender and lightly charred. Allow to cool slightly and roughly dice yellow pepper and zucchini slices into halves.
In a small bowl blend together the dressing ingredients.
Place quinoa, roasted corn kernels, beans and all other vegetables in a salad bowl, and toss together with dressing, chopped herbs and green chilli.
Season to taste with salt and black pepper.
Serve.
Notes
To get 3 cups cooked quinoa you will need to cook 3/4 cup quinoa with enough water following the directions here.
In the absence of a gas or electric grill you can roast the corn and vegetables in a ridged pan or broil in oven.
http://www.simpleglutenfreekitchen.com/2013/09/quinoa-salad-with-beans-roasted-corn-and-vegetables.html

Print
You might also like: