I love giving and getting homemade food for gifts. And this love made me participate in an online cookie swap arranged by Foodies+. It was my first experience and definitely not going to be my last. In case you don't know, Foodies+ is an exclusive google community with strict rules, where you not only share recipes but can also talk to each other (if time permits). Recently it celebrated its first anniversary and developed an app  where you can see all the recipes in magazine format. The app can be downloaded for I Pad and smart phones by clicking the link provided in this post.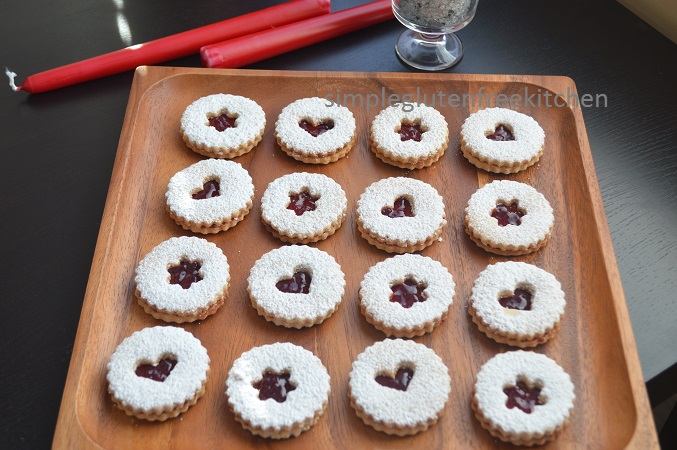 The whole idea of organizing this cookie swap was to spread joy and cheer through sharing of cookies or any homemade edible gifts. I wish we could start the tradition of exchanging sweets and savories on Diwali, too. It will be lot of fun!
The partners for this cookie swap were randomly paired based on country or the location wished by participants. There were only two entries from Canada so I was paired with Sally Weatherly of Vancouver. Since we lived on a 40-50 min drive from each other I dared to to ask Sally if she was interested in meeting in person. She thought it was an excellent suggestion and then we started materializing our plan by exchanging emails, choosing the day, time and location for the cookie exchange. It was a thrilling experience meeting someone face to face from a different background who I solely met through foodies community. We had a good time, chatting, laughing and knowing each other. You might want to check my cookie exchange google post here and hers over here (where she shared a photograph of us). I received rich, chocolatey cookies which had a soft brownie like texture. It was so sweet of her to bake them gluten free.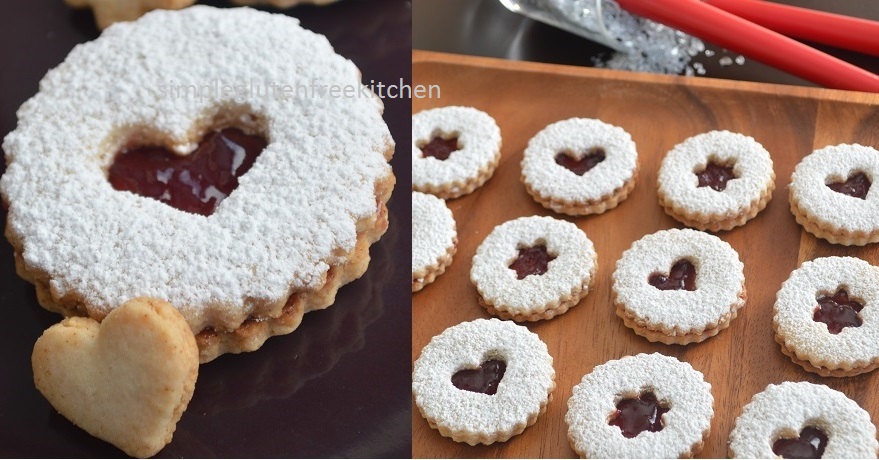 When I was deciding on what to bake for the cookie swap I immediately thought of Linzer cookies. Because, besides being scrumptious to eat these jam filled cookies are pretty to look at.  Raspberry or black currant is the traditional filling, its  tartness beautifully complements the sweetness of powdered sugar covered cookies. They are fragile to travel long distance by post but since we were meeting in person, I thought it was the perfect opportunity to taste test a gluten free recipe which I haven't posted before from a gluten eating, non food blogger.
Although, it is time consuming to make linzer cookies, the recipe is pretty straightforward, and not complicated to make. The dough needs to be rolled thin and cut into bottom and top cookies, with an inside shape cut out at the same time from top cookies. Then they are baked, cooled, and are filled with jam. The best part is when you sprinkle the top cookies with icing sugar. So pretty and gives a nice wintery feeling!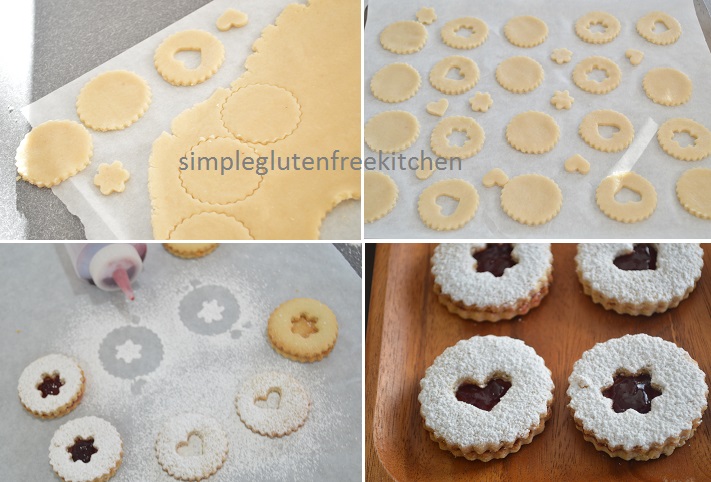 It is an easy recipe that makes pretty and delicious, jam filled treats.
Ingredients
Linzer cookie

1/4 cup butter
1 cup almond meal
1 cup white rice flour mix
1/2 tsp baking powder
1/4 cup sugar
1/4 tsp salt
1 egg
1 tsp pure vanilla extract

Topping

Raspberry or black currant jam
icing sugar for dusting
icing sugar for dusting
Instructions
Linzer Cookies

Mix almond meal, white rice flour mix, baking powder and salt in a bowl.
Using an electric mixer, beat butter, sugar and vanilla until light and fluffy.
Add egg beat until mixed.
Turn the mixer on low and add flour, beat until it comes together as a soft dough.
Divide the dough into 3 balls. Cover with plastic wrap and refrigerate until firm for 30 minutes.
Preheat oven to 325°F and set aside two trays lined with parchment paper or silpat.
Remove one ball and roll out between two parchment papers until it is 1/4" thickness.
Using a 2" round or square fluted cookie cutter, cut out cookies. With a spatula, transfer cookies to the prepared sheets, spacing them 1" apart.
Using a smaller cutter, cut centers out of half of the cookies. Repeat rolling and cutting with second and third balls of dough. Gather scraps, re roll and cut.
Bake cookies until edges are golden, 10-12 minutes, rotating halfway through.
Remove tray from oven, cool cookies slightly on the baking sheets, then using a spatula transfer to wire racks to cool completely.

Assemble Cookies

Place the cut out cookies on a baking sheet and lightly dust the tops with powdered sugar.
Spread a thin layer of jam on the flat side (bottom) of each cookie and top with the sugar dusted cut out cookie tops and gently press to seal them together.
Using a small squeeze bottle or piping bag, fill the cut -out with a little more jam.
Store the cookies in an airtight container at room temperature for 5-7 days.
http://www.simpleglutenfreekitchen.com/2013/12/linzer-cookies.html
Linked at Simply Indulgent Tuesday.

Print
You might also like: