Google+ is one of the social media platforms, where you get  to see and learn something unique every single day. And sometimes an idea or recipe you see is so simple and works for you that you wonder why you didn't think of it. I came across one such post by Azlin where she  used a mix of mango chutney and mayonnaise for canape topping. I happened to have mango chutney at home, so I tried out her recipe and also a really simple dipping sauce by adding water, and it was deeeeelicous! I wanted to share this idea and the recipe of mango chutney with you all.
So here it is…..
Mango chutney is a wonderful addition to any Indian or non- indian meal. It is sweet and spicy and good as a spread, a dip or used in cooking other recipes. For a mango or any kind of stone fruit chutney, recipe is not really necessary. Its about combining the sweet with sour and spicy, amounts can vary depending on the sweetness of fruit and personal taste.
In this recipe I used firm (barely ripe), fleshy mangoes with a sweet and sour taste. In India we make it with unripe green mangoes, but ripe mangoes work just as well with the spices and vinegar. Once the chutney is made you can store it in clean jars in the fridge, or freeze. I freeze it in small containers so that I don't have to thaw the whole amount when I need to use it.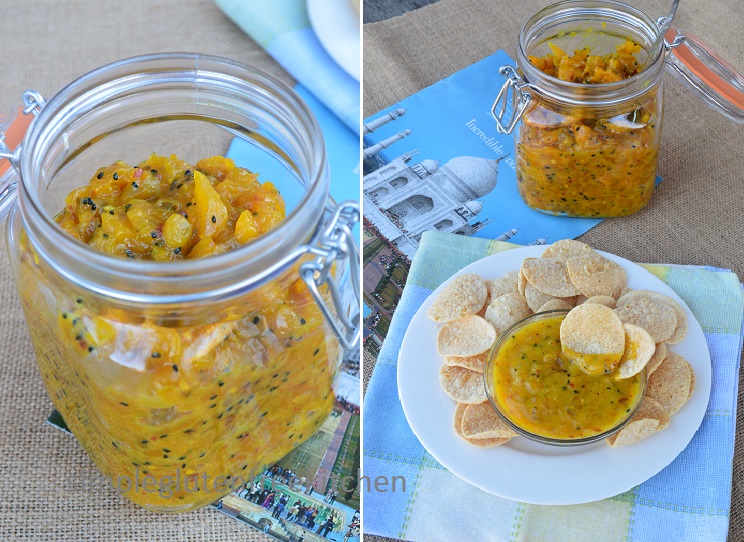 Now, that you have chunky mango chutney on hand, you can ground  a bit, add water and enjoy it as a great dipping sauce with crackers, chips or lentil wafers.  It actually tastes so good that I think everyone should have a mango chutney in their lives that can be turned into a dipping sauce and used at every possible opportunity.
Mango Chutney with a bonus dipping sauce
Sweet, sour and spicy mango chutney. Delicious as a spread, dip and an accompaniment to curry.
Ingredients
For mango chutney

2 large firm (slightly under ripe) mangoes, peeled and roughly cubed (makes about 3.5 cups)
2 tbsp onion, chopped
1 tsp saunf (fennel seeds)
1 tsp kalonji (nigella seeds)
2 tsp grated ginger
1.5 tsp red chilli flakes
1/2 tsp turmeric powder
1/2 cup sugar
1/3 cup white vinegar
1/4 cup raisins( optional)
3 tbsp oil
1 tsp salt
no other spice

For mango dipping sauce

water (as needed)
mango chutney
Instructions
Mango chutney

Heat oil in a skillet on medium heat. Add saunf and kalonji and fry briefly.
Add onion and saute till translucent.
Add grated ginger, turmeric, pepper flakes. Stir for about 1 minute.
Add mangoes and rest of the ingredients.
Stir to combine and bring to a boil. Reduce heat to low, cover and simmer for 20 minutes or until the mango softens, stirring once to ensure nothing sticks to the bottom of the pan.
Taste and adjust sugar or spices as needed.
Remove from heat. If there are big chunks of mango, break them up with a spoon or potato masher.
Let it cool for 10 minutes and then spoon into clean jars, store refrigerated.
Will keep for several weeks.
To make dipping sauce, coarsely grind mango chutney (if it has large pieces).
Add water to achieve a dippable consistency.
Simmer/microwave for 1 minute.
Serve cooled with crackers/ chips/ grilled paneer pieces.
http://www.simpleglutenfreekitchen.com/2014/02/make-your-own-mango-chutney.html
Linked to Gluten free Fridays.

Print
You might also like: