I couldn't wait to share this lemon pound cake recipe, after reading wonderful spring recipes on the food blogosphere. Lemons are not exactly spring produce, but they are refreshing and screams spring to me.  I  know, what else you may think it's just another lemon pound cake recipe. You will probably find hundreds of pound cake recipes at the moment, lemon pound cake recipe in particular. However, this one is different, its gluten free (obviously) but it's also soy and nut free. So I hope you don't mind when I add mine.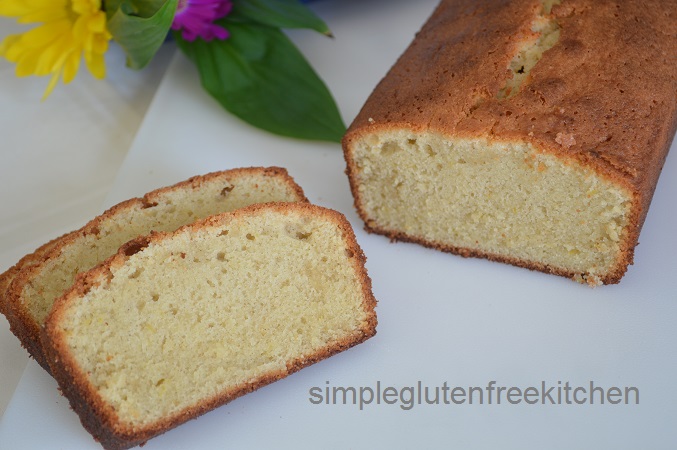 The texture and taste of this cake is very much like a conventional pound cake. I used a blend of sorghum and sweet rice flour. I would not recommend substituting sorghum flour otherwise your cake will not be as dense and velvety as a traditional pound cake is known for. If you are a regular reader of my blog, you've most likely noticed that I use a wide variety of flours in my gluten free kitchen. Avoiding wheat /gluten means that you are missing out some key nutrients from your diet, which may lead to deficiencies. Rice flour mix is a pretty standard option in baking but its high in starch, and using just nut flours is not good either. I try to use a balance of all flours to replace the (missed) healthy nutrients of wheat.
Baking with these flours can be tough sometimes as they burn easily. I mostly use light colored pans and keep the oven temperature lower by 25-50° and also tent it with foil. If after following these steps the cake comes out burned around the edges or on the bottom, don't feel disheartened, use a fine grater to scrape away the burned areas, it will not have any burned flavor.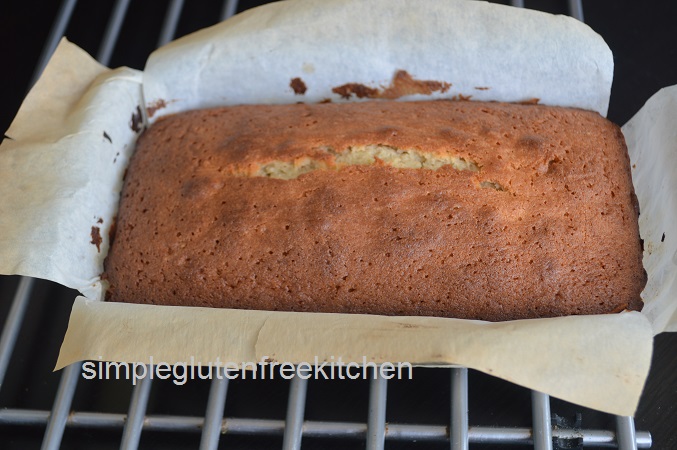 This cake is delicious with a perfect moist and delicate crumb, and a good lemon flavor.  I don't glaze because I freeze this cake and use it for so many different things. It makes a great breakfast with summer berries and an after dinner dessert or a snack with ice cream or custard sauce.
Lemon pound cake makes a perfect breakfast, after dinner dessert or a snack.
Ingredients
117 g (1 cup) sorghum flour
108 g (3/4 cup) sweet rice flour
25 g (2 tbsp) corn starch
1/2 tsp baking powder
1/2 tsp salt
250 unsalted butter (at room temperature)
200 g (1 cup) white granulated sugar
4 eggs (at room temperature)
2-3 tbsp lemon juice
2 tbsp lemon zest
Instructions
Preheat the oven to 325°F. Grease a loaf pan with butter and line it with parchment paper.
Whisk together sorghum, sweet rice flour, corn starch, salt and baking powder in a medium bowl.
Put sugar and the lemon zest in a bowl, working with your fingers, rub them together.
With an electric beater or a stand up mixer, cream butter.
Add sugar and beat until light and fluffy.
Add eggs one at a time, beating well after each addition.
With the mixer on low, add the flour mixture.and lemon juice, mix until just smooth.
Spoon batter into the prepared pan, spread evenly.
Bake on the middle oven rack until the cake is deep golden brown for about 50 minutes or until a toothpick inserted comes out clean. After 25 minutes of baking, check on your pound cake if it has begun to darken rather quickly, loosely cover with an aluminum foil tent and resume baking.
Allow to cool the cake for 10 minutes, then grabbing the edges of parchment paper, lift the cake out and finish cooling on wire rack.
Remove parchment paper and discard.
Slice and enjoy.
http://www.simpleglutenfreekitchen.com/2014/04/moist-lemon-pound-cake.html
This recipe is part of Gluten Free Wednesdays, Allergy Free Wednesdays.

Print
You might also like: