I have never met anyone who does not enjoy daal makhani. It is the most wondrous creamy lentil dish from Punjab region. The one that you'll find in restaurants with copious amounts of butter and cream is not how we make in our homes. Of course daal makhani means  buttery/creamy  lentils and the dish does have decent amount of butter, but it is mostly about slow simmering that makes it creamy. When I learnt to make this dish my mom said to remember, 'the longer it takes, the better it tastes'.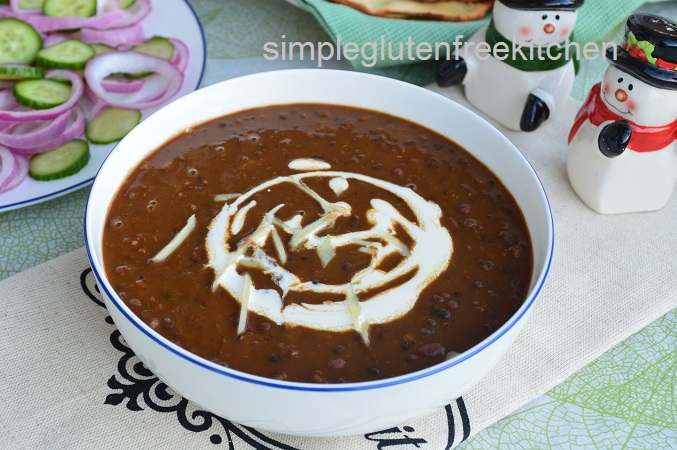 The lentils used in daal makhani are the whole urad and small amount of red kidney beans. The combination of these two lentils make the dish high on protein, very nutritious and ideal for the vegetarian diet.  Urad daal is small mung bean shaped beans but black in color. Since whole beans take a while to cook, I usually soak and pressure cook, but to attain the silky, buttery texture of daal makhani I use slow cooker. If you do not have a slow cooker (which I doubt), you can use a regular pot and cook daal on low heat with sufficient water. You have to keep adding more water as and when required. The length of time it takes your daal (lentil dish) to cook depends on how old the lentils and beans are and how soft and creamy you want.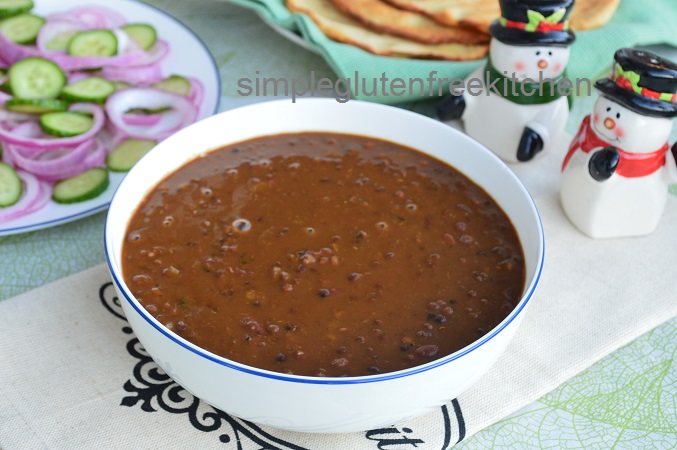 Daal makhani tastes better the next day after the flavors have had time to develop and is best enjoyed with freshly baked tandoori  roti or naan and a simple red onion salad.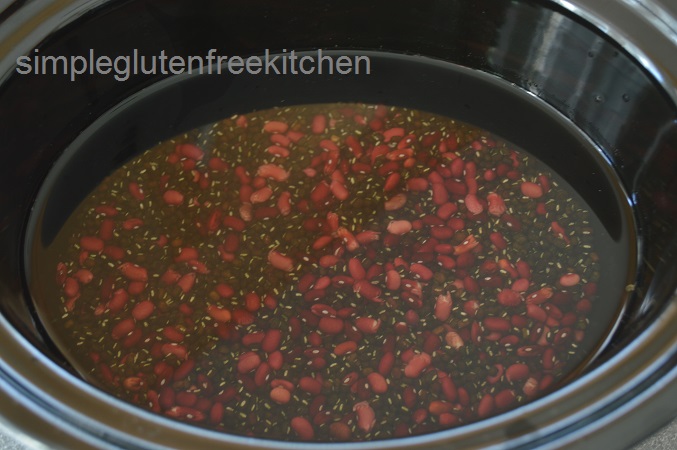 Daal makhani is a flavorful and protein rich dish from Punjab. It is cooked for long hours to give it a creamy and rich texture.
Ingredients
For daal

3/4 cup whole Urad
1/2 cup rajmah ( I used Jammu rajmah)
6 cups water plus more
salt to taste
1.5 tbsp ginger and garlic paste
1 tbsp butter /desi ghee

For tadka /tempering

1/2 cup chopped onion
2 large tomatoes (or 3/4 cup tomato puree)
1/2 tsp turmeric powder
1 tsp red chili powder
1-2 tsp kasuri methi
1 tsp cumin seeds(optional)
3 tbsp butter
1 tbsp olive oil
1 tsp garam masala
3/4 tsp roasted cumin powder

To finish

thinly sliced ginger
cream or butter
Instructions
Clean and rinse the urad lentils and red kidney beans.
Add them to the slow cooker insert with 7 cups water, 1 tbsp butter (or desi ghee) and ginger garlic paste.
Put the lid on and cook on a high setting for three hours and then on low for 9 hours.
In a skillet melt remaining 3 tbsp butter and olive oil.
Add cumin, let the seeds starts to splutter. If the butter/oil is properly heated, this happens with in seconds.
Add chopped onions,cook until they browns slightly. Add turmeric and red chili powder. Crush kasuri methi (dried fenugreek leaves) in the palm of your hand and add it in.
Stir fry the spices for a minute and then add pureed tomatoes.
Let it cook until the raw smell goes off and oil glistens.
Take this mixture and carefully add to the cooked lentils. Stir well.
Sprinkle garam masala and roasted cumin powder. Add salt.
Check the consistency of daal, it should neither be thick nor thin. If it is thick add some water (I generally do and cook daal a little more).
Put the lid back on the slow cooker (after adding water) and let cook for another 15-30 minutes
Garnish with some cream or butter and thinly sliced ginger before serving.
Serve hot with tandoori roti or naan.
http://www.simpleglutenfreekitchen.com/2014/05/daal-makahni.html

Print
You might also like: