Summer is fast approaching and few things are as refreshing and thirst quenching as homemade lemon ginger tea. These days I make it every morning and keep it in the fridge for my in laws because when they come home from a walk they want to relax with a refreshing drink. Not only is it delicious and a great alternative to fizzy, calorie laden drinks or juices, it is really healthful. I saw my mom brewing it all the time when our stomachs were upset from overeating or when we have sore throat or when we need to calm down our sweet cravings or when we just needed an immunity boost.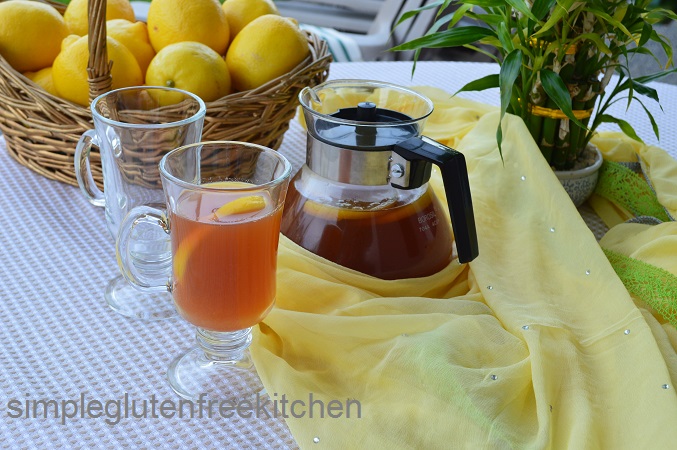 There are many great ways to prepare lemon ginger tea, I find the indian method to be simple and best. First peel (you don't have to if it is organic)  a fresh ginger root and then grate or pound in mortal and pestle. Next add it to a saucepan of water and heat. When the water starts boiling , lower the heat and gently cook ginger for 5 minutes. For a stronger taste, allow to simmer for 15-20 minutes ( I usually do this while making ginger tea with milk). After that add tea bag and boil for 30 sec to 1 minute, again depending how strong you want. Strain in a carafe, add honey and lemon juice. Put the carafe in refrigerator and pour yourself a cup whenever you want. It is a great beverage served hot or iced, when you are entertaining guests.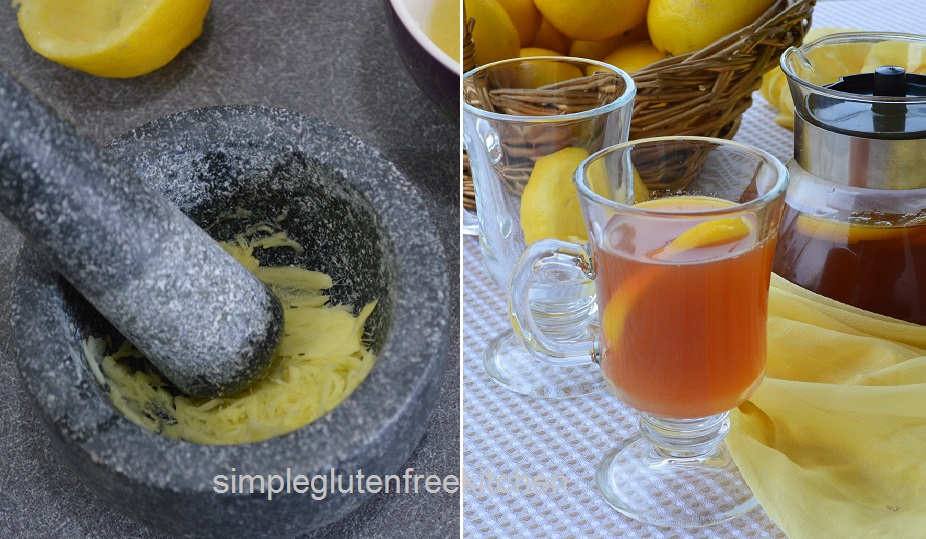 Ingredients
4.5 cups water
1.5" piece of fresh ginger root, grated or pound
2 black tea bags (or green if you prefer)
honey/ sugar/stevia or brown rice syrup to taste
7-8 lemon slices
4 tbsp lemon juice
Instructions
Lay lemon slices flat on a baking sheet in the freezer, until solid.
In a saucepan bring water and ginger to boil. Reduce heat to where it sustains a gentle boil and cook for 5 minutes.
Add tea bags and bring to boil on medium. Turn off the heat after 30-45 secs.
Strain tea into a carafe/pitcher/kettle, discarding the solids.
Stir in lemon juice and sweetener.
Set aside to cool down to room temperature. Refrigerate until cold.
Serve with frozen lemon wedges.
http://www.simpleglutenfreekitchen.com/2014/05/lemon-ginger-iced-tea.html

Print
You might also like: