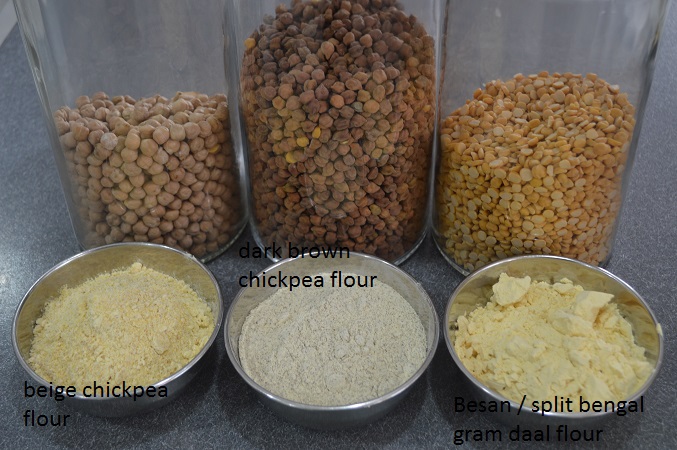 Types of Chickpeas & Flours
Whether you are on gluten free diet or just attempting to add healthy nutrients in your diet, besan or  bengal gram or garbanzo bean flour is a healthy alternative to some of the most common flours. Just adding a small amount of garbanzo flour or besan to wheat flour or any GF flour can improve the nutrition of cooked food. According to Gluten Free cooking school website, 1/4 cup of garbanzo bean flour gives 5 g of dietary fiber and 6 g of protein.
Sometimes there is confusion understanding the difference between chickpea flours and besan (which is chana daal flour, also known by few other names). They almost look and taste the same although made from a DIFFERENT BEAN.
Chickpeas are of two main kinds :
Beige and  dark brown
White Chickpea:
It is also known by the name garbanzo / cici bean/ kabuli chana. It is beige colored, larger seed with a smooth coat. Chickpea is a popular ingredient in Indian and Mediterranean diet for making curries, hummus, falafal, soups and salads. It is an excellent source of protein but also have a higher fat content.
Chickpea (garbanzo) flour is made from actual chickpeas and is popular in Italian cuisine for making pancakes. It is available in specialty stores and in Italian shops and goes by the name garbanzo bean flour or farina di ceci.
Recipes made from white Chickpea
Roasted acorn Squash with Chickpea Medley
Dark Brown or Indian Black Chickpea:
Indian Black chickpea is also called Bengal gram or Kala chana or Desi chickpea. It is small, from light to dark brown color with a rough coat. It is a powerhouse of nutrients, rich in protein, fiber, vitamins and has low glycemic index which makes it suitable for people with high blood sugar. Whole chana is great when used in a curry, sprouted for salads and roasted for snack.
Whole chana flour is made from this black chana and is different from besan. It is just like other whole grain flour that contain cereal germ, endosperm and bran. It can be used for making chapatti combined with other flours. It can not be substituted for whole wheat flour. Chapattis made with this flour looks dark brownish black but very tasty and nutritious.
Recipes made from this black chickpea and its flour
Missi Roti – herbed Indian flat bread made with a blend of whole chana and white chapati flour.
Kala chana Pulao with Candied carrot strips
Chana daal (lentil):
Chana daal or bengal gram daal or yellow daal  is made by peeling and splitting Bengal gram. Flour made from this daal  has a pale yellow color, slightly strong taste to some but with a nutty flavor. It  is  popularly known by the name besan or gram flour.  In Indian kitchen it is used as a binding agent for Koftas (vegetable balls), batter for fritters,  savory snacks, vegetarian pancakes (Cheelas) and sweet dishes.
Check out these sweets made from besan/gram flour, which are very popular in North India and one of my favorites – Besan burfi, Besan ladoo.
Other recipes include – Punjabi Kadhi, Cabbage Kofta Curry, Boiled egg curry, Besan Ki sabzi,   Mirchi Pakora, Chicken Kofta curry,  Persian chickpea flour cookies, Pithaud with chaunke matar,
Chana daal is often confused with TOOR (tuvar or arhar) daal and YELLOW SPLIT PEAS, but they are  different lentils in appearance and taste.
Green Garbanzo Bean/ Hara Chana/Choliya:
Green Chana is the greener counterpart of Kala Chana (dark brown chickpea/ bengal gram) and is available only in season when fresh crops of chickpeas are harvested.  In Canada frozen choliya is available in Indian stores, farmer's market, specialty stores as well as some of the Canadian Super markets like Costco. The frozen bags of green garbanzo beans from the Costco are the best so far, just as tender and crisp as fresh beans. You don't need to cook them much compared to the one that you find in Indian grocery stores. You also get dry green garbanzo bean in Indian stores, however fresh or frozen tastes the best. Green garbanzo beans are an excellent source of folic acid and a good source of iron and they boast sweeter flavor than traditional garbanzos with the same satisfying, nutty texture that makes them so versatile. Use them for curries, dips, smoothies, salads, stuffing and many more…
Recipes made from Green Garbanzo
Soft corn tacos with green garbanzo beans
Healthy green garbanzo bean 'Chaat'
Flours made from different chickpeas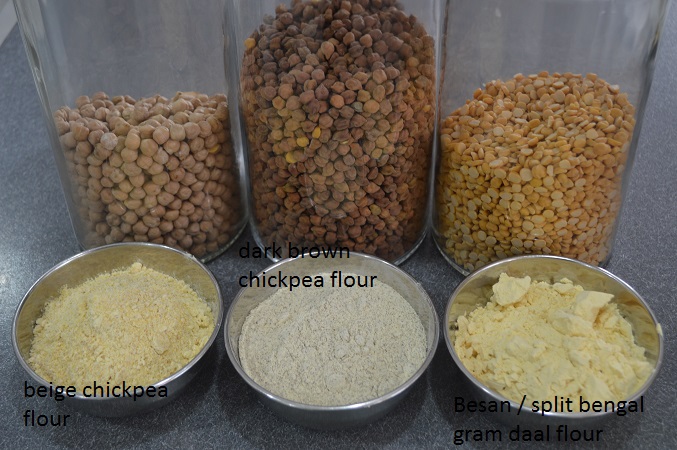 It is hard to find the difference between beige chickpea / garbanzo bean flour and chana daal flour/ besan. I ground the chickpeas myself to check the difference and made parshad. Garbanzo  flour halwa was slightly moist, less sticky as compared to besan halwa (made with same amount of ingredients).  I am not sure if they can be swapped in all recipes but will cook some other dishes and update the post.

If you come across chana daal flour and chickpea flour on the same isle of the store, do not get confused. It is ground from bengal gram daal, and suppliers use different names to sell their products ( that's what I was told when I asked a popular specialty store in Richmond). However,  if you read garbanzo bean flour on the label, it is definitely made by grinding beige chickpeas/ garbanzo beans.
Photos updated on Feb. 7th, 2014
February 24th, 2014
Few days ago I tested boondi and cheela recipes with besan and garbanzo bean flour. To be honest, I could not tell any difference in cooking, appearance or taste, but my daughter who is my trusty taste tester and critic for all my creations, found besan to be too beany compared to garbanzo flour.  So, if you have any issues with strong nutty taste of besan, you can easily replace garbanzo bean flour in any recipe (provided its finely ground like besan).
March 27, 2014
I made Socca, the Italian flat bread ( sometimes called pancake) with besan. It came out perfect. Usually it is prepared with farina di ceci /garbanzo bean flour.  Check out the pictures here and here (that's how I ate). After working successfully with both these flours I think you can easily alternate them in any of the recipes.
If you have also experimented with these flours and want to share some tips or would like to add anything about chickpea flours, please leave a comment or send me an email. I would be more than happy to update my post.
38 Comments
[…] Skip to content HomeChickpea FloursMy Gluten Free PantryAbout […]

[…] Skip to content HomeChickpea FloursMy Gluten Free PantryAbout […]

[…] Skip to content HomeChickpea FloursMy Gluten Free Flour PantryAbout […]

[…] Skip to content HomeChickpea FloursMy Gluten Free Flour PantryAbout […]

[…] is a slow cooked yogurt or buttermilk dish, thickened with besan (chana daal flour, chickpea flour) which is later tempered with spices. In Indian recipes the terms […]

Sowmya

January 27, 2014 (10:40 am)

Hi there,
I stumbled upon your website when researching about chickpea and besan. I'm of Indian descent and recently diagnosed with gluten intolerance as well and I was struck by everything you said– it was so much like me and what I'm dealing with in re-learning to bake again! It's challenging and fun at the same time. I have a question for you though with your thorough explanation of besan and chickpea– I am curious if besan is sometimes milled from the whole chana and sold that way. In our local stores, some of them carry besan and say "split gram dal" and others just say besan or chickpea or chana flour. I'm researching this because my son can eat besan products sometimes and at other times he breaks out into awful hives around his face, lips and sometimes complains of throat hurting. He is 10 and this has been ongoing his whole life. My mom will give him some haldiram boodi and he will be fine but then next time he eats a sev, he will break out. It's so confusing. Sometimes when I've made pakora or bujia, he is fine and sometimes he will break out. Same with eating at restaurants– same dish like pakora or his favorite chili bhajis, he will be fine sometimes and sometimes he will break out.
I'm wondering if it's something in the skin when they process the whole chana. He can eat chole fine and same with steamed kala chana (like our south Indian sundal dishes) so I'm not sure if they process uncooked whole chana and he is super sensitive to the tannins in the skin or something like that. Anyway, just thought I'd ask and see if you know of the actual milling procedure in Indian mills regarding the different besan products?
thank you ,
Sowmya

Balvinder

January 27, 2014 (1:42 pm)

Hi Sowyma,

Thank you so much for your question. Although I am not an expert in what you asked but I will try to help. Besan, as I remember from before was processed in small mill plants ( maybe it's the same now) where they also process maize, pulses and other grains. When you and your son were diagnosed with gluten intolerance (or have celiac), doctor must have clearly instructed you to avoid all things that have gluten. And to be gluten free, you not only avoid foods that that contain gluten but also watch out for cross contamination. If the besan flour has come in contact with grains such as spelt, wheat or barley in milling or frying you could experience uncomfortable symptoms……..) I know it can be challenging to eat in a restaurant however you can always let the chef and waiters know that you and your son are allergic to gluten, before ordering the food. When I go to an Indian restaurant I certainly avoid pakoras unless they use fresh oil to fry) Before you come to any conclusion after your thorough research, I would suggest you go to a doctor and get checked out. He can do more tests to find out other possible allergies.

I hope that helps and thank you for visiting.

[…] Skip to content HomeReader's RequestChickpea FloursMy Gluten Free Flour PantryAbout […]

Ajitha

April 7, 2014 (6:50 am)

Thank you very much for pointing the difference. Today at the Indian store I got confused because I saw chickpeas flour and yellow split peas flour. I was not sure which to pick and totally confused. Now I realize everything is almost close and will taste close. 🙂 Thank you once again.

[…] Skip to content HomeReader's RequestTypes of Chickpeas & FloursMy Gluten Free Flour PantryAbout […]

Angela Longo

August 6, 2014 (4:29 am)

I invented a way to make hummus using the besan flour and ate a bit today on seaweed and veggies… I burped more than usual but no pain.

Is the flour raw? Do I need to cook it in water and olive oil first? what is shortest length of time to cook…cause I live in Thailand Chiang Mai and couldn't get beans to cook today.
Otherwise, I guess i can use the hummus as thickener for soup? Or let sit out overnight and bake like an italian flat bread…I am Italian.

Balvinder

August 6, 2014 (5:27 pm)

Hi Angela,
That's interesting to know that you made hummus using besan. Yes, besan is made from raw chana daal so you need to cook before consuming. I do sometimes use it for thickening gravies but not sure how it will taste in soups. If you try, do let me know. I have baked Italian flat bread (socca) using besan and the result is great. You can check the link in my post.
Many thanks for visiting!

Angela Longo

August 6, 2014 (4:31 am)

Can you post answer to my email in case I can't find this again? Thanks

Balvinder

August 6, 2014 (5:32 pm)

When you check the box for 'notify me of follow up comments', you immediately receive the reply in email.

Angela Longo

August 6, 2014 (5:50 pm)

I'll let you know what I do with it 😉 Thanks for your kind reply.

Dipali

November 24, 2014 (6:53 am)

Hi Balvinder,
It's so nice and thoughtful of u to share the info on gluten free diet which u have gathered by researching and by experimenting . I've a toddler,3 yr old who recently diagnosed with the gluten intolerence. It's so hard to finger out what food I can give him specially how to replace the wheat in Roti
Which is staple diet of most parts of India. I've been making dosa with quinoa,mix lentils,brown rice .
Aft reading ur blog I would love to try ur white roti flour but not sure abt soy flour(all the soy and corn r gmos in us) so what can I use to replace soy flour .
I would like to know ur process of finding out the gluten intolerence in ur case if it's fine with u.Thanks a lot Balvinder for ur gf blog it's very helpful to so many ppl .

Dipali

Balvinder

November 24, 2014 (8:15 am)

Hi Dipali,
Thanks I am so glad you made the effort to comment how you feel. This GM thing is a very debatable topic. I agree soy and corn are genetically modified crops but there are no valid scientific reasons to ban them from your pantry. But it's healthy to limit your intake of products about which you are unsure. I eat more non-processed, fresh and certified organic foods and doesn't care much about this GM thing. Do you know there are some vegetables and fruits that are also genetically modified such as zucchini, squash and papaya. If you are keen on reading this topic more, read this recent study http://www.forbes.com/sites/jonentine/2014/09/17/the-debate-about-gmo-safety-is-over-thanks-to-a-new-trillion-meal-study/
I have tried various flour mix for chapati but this one was the best -taste wise and also the appearance looks like a wheat chapati. You can easily use it in making parathas and poories. I would suggest bean flour to replace soy but you should experiment and see if your son likes it or not. Do keep in touch and let me know if you try anything. Have a good day!

Dipali

November 24, 2014 (11:43 am)

Hi Balvindar,
Thanx a bunch for replying.I'll definitely try white chapati flour recipe and let will let u know. How can I get access to all of ur recipes.
Dipali

Balvinder

November 24, 2014 (3:46 pm)

My dear, this blog is for you and readers like you. I will be glad if any of my recipe makes your 3 year old smile. There are few things you can do to access my recipes, choose which ever suits you. You can browse my old recipes through select categories in the right column. You can follow my blog through email, just look in the right column where it says subscribe. You can see all my recipe pictures in magazine format on your mobile phone or Ipad by following my magazine, it's free. It shows on the right bottom of my blog. When you click on a particular picture it will automatically take you to my blog post.And, whenever I post a new recipe I share it on Google+. You can follow me there.
If ever you have a question about any recipe ask me on that blog post. This can help other readers as well.

Dipali

November 24, 2014 (4:56 pm)

Thanx Balvinder.

[…] Skip to content donde comprar cialis en valencia HomeReader's RequestTypes of Chickpeas & FloursMy Gluten Free Flour PantryAbout […]

FRANCISCA

May 23, 2016 (5:47 am)

Hi, I'm from Spain, and I saw your intersting blog about gluten free cooking….
My question is : can I trust chana dal or garbanzo flour, normal packets which are sold in común shops( meaning not health food stores) as being gluten free? I´m trying to make gluten free bread with buckwheat flour and chana dal flour.
thank you very much in advance

Balvinder

May 23, 2016 (7:16 am)

Hi francisca

This is a great question and one that is so confusing to answer.
Many grains and lentils, are inherently gluten free. Though, It is possible that they can become contaminated during processing and therefore are no longer gluten free. Personally I don't worry about it when I am buying whole foods (grains and lentils) rather than flours. Because I can see a stray wheat seed mixed in, and take it out , I have never found any yet. With flours though, it is impossible to see. So if you are a celiac or have an extreme gluten problem, then you have to buy products that are labeled gluten free from specialty food stores.
Check this link.
http://www.glutenfreedietitian.com/contamination-of-naturally-guten-free-grains/
I would also say , do what your deep intuition tells you.
Do you get gluten reactions?
Does it harm your body when you buy buckwheat or chickpea flour from a regular store?
Read food labels. Call the 1800 number on the back of packet, or check online if that product is safe for gluten intolerants.

There is a portable gluten testing kit available in the market and online for the detection of gluten. I haven't tried it but you can.
https://www.ezgluten.com/

Hope this helps.
P.S.Send me the recipe and picture of buckwheat bread once you make it.

Abhijit

August 3, 2016 (8:33 am)

Hii myself Abhijit I have one quation besan is really made from only chana dal not any othar grains mixed ….I used homemade flour not a tasty..but hira besan fliur pakora very tasty …if any compostion of besan plz tell me..

Balvinder

August 10, 2016 (2:06 pm)

Hi Abhijit,
Besan is only made from chana daal (bengal gram lentil).

amy

January 31, 2017 (5:37 am)

i made chickpeas flour 🙁 instead of bengal gram flour due to confusion 🙁 …

Balvinder

January 31, 2017 (8:42 am)

It is still good. They are almost similar in taste.

[…] Types of Chickpeas & Flours […]

A.S.Gill

February 27, 2017 (5:59 am)

Where can I can detailed nutrients in sand roasted kala channa, with and without its dark brown peal.

Balvinder

February 27, 2017 (7:59 am)

You can google it for nutrients calculating site.

[…] Types of Chickpeas & Flours […]

[…] Types of Chickpeas & Flours […]

Nicola Bond

May 8, 2017 (7:12 pm)

Thanks this was really helpful! I'm writing up a blog post for Gluten Free Chocolate Cupcakes which I used chickpea flour in and was trying to work out if that was the same thing as besan!

Balvinder

May 8, 2017 (9:46 pm)

Although they are not same but can be used interchangeably.Some people taste a very slight difference, but most people can't even tell them apart. I made Persian cookies with besan which are typically made with chickpea flour. The only difference I found was in color. Besan is more yellow.

[…] Types of Chickpeas & Flours […]

Diana

May 26, 2017 (5:35 am)

Hello, thank you for the helpful information. I'm not gluten intolerant, but wanted to use less wheat so i started cooking with garbanzo bean flour (pancakes, cookies, etc). I like the taste and nutrition. Since i'm using it a lot, i decided to buy it not from expensive health food stores, but from an asian grocery store in my neighborhood. They had 3 brand of besan (gram) flour. I got one and it was very bitter to my taste. I didn't even tried to use it, was afraid that will throw away the cookies, so why bother… Apparently, it said chana dal, and after a lot of "googling" i realized that even though it's all from the same group, but it is not the same. Now, i even more confused))), so which one i should buy to make mostly sweets (cookies, brownies, pancakes) from that asian grocery, because it is much cheaper than "garbanzo bean flour" Bob's Red Mill's from health food chain? Or should i stick to it? the one i got is by Maya Overseas Foods Inc. and it says "superfine Gram flour 100% Besan made from Indian Chanadal. Thank you,

Balvinder

May 26, 2017 (4:52 pm)

Hi Diana,
It appears you haven't read my post. Even though the chickpea flour made from white chickpeas and besan from peeled and split bengal gram belong to the same group, they do have a slight difference in taste. The confusion is only because people in West call Besan as chickpea flour. Even the food bloggers complicate the matter more. Hence, I wrote this post and experimented the recipes with both flours. Recently, I made Persian cookies using both the flours. The one in this post are made from besan, they look more yellow and the one shown in this post are made from chickpea flour gotten from a health food store. Don't worry too much about it all though, besan bought from an Indian store will just work fine in cookies, brownies, pancakes and Italian flatbread etc.

Go ahead, buy the "superfine Gram flour 100% Besan" from Maya Foods and enjoy!