There's nothing more nourishing than a hearty breakfast of oatmeal. High in fiber, low in sugar, this heart healthy whole grains breakfast make you feel more energetic to take on the day. I prefer steel cut oats to instant or old fashioned rolled oats. They are least processed and love the way they taste and the texture they have. They remind me of 'meetha dalia' my mother used to make for breakfast. Dalia (दलिय़ा) is a hindi term used for cracked wheat. It is similar to steel cut oats and a traditional breakfast food on cold winter mornings. Oats were unheard of while I was growing up but in last few years it became part of Indian breakfast repertoire and now oats are widely used in sweet and  savory recipes.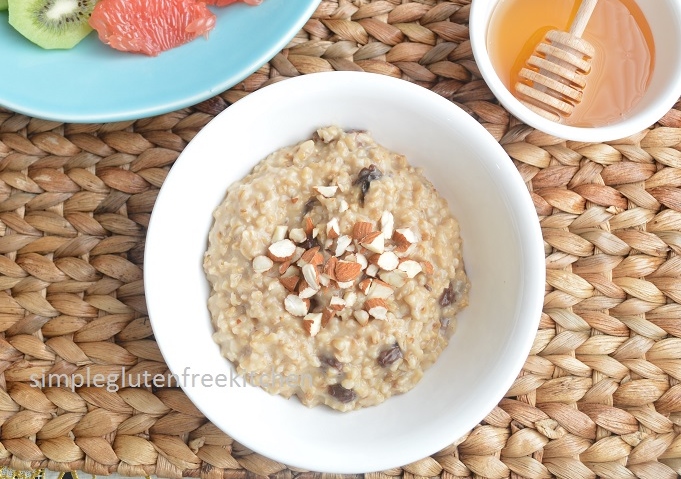 I cook oats porridge with warm spices, the same way as my mother cooked meetha dalia, without milk (it was added after), but you can cook it in milk or take equal parts water and milk. Steel cut oats take longer to cook than dalia, hence some folks soak it prior to cooking or they use slow cooker. But as it reheats perfectly by adding little water or milk, I cook  at night for next day's breakfast. Regardless of what method you use for cooking, make sure to toast the oats in desi ghee or butter before adding any liquid. This really gives a yummy toasted flavor to oats and help reduce foaming while the pot is covered.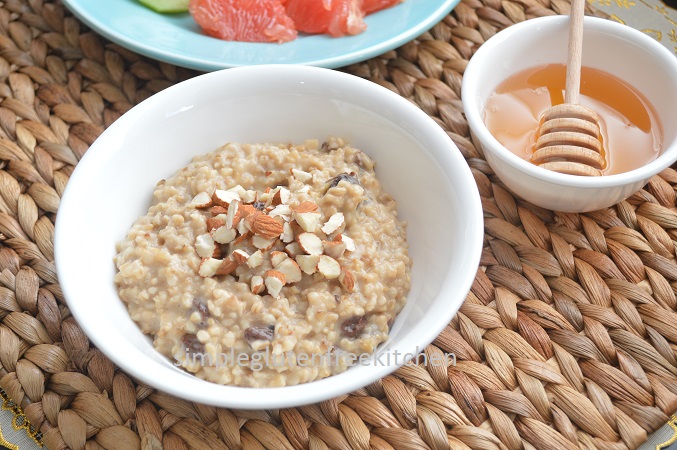 Ingredients
1 cup steel cut oats
4 cups water (or milk, whatever you prefer)
1-2 black cardamom, shell discarded
2-3 cloves
1" cinnamon stick
2 tbsp desi ghee ( or butter)
1/4 cup raisins
1/4 cup chopped almonds (toasted)
Instructions
Heat desi ghee in a saucepan.
Sizzle cloves, cinnamon stick and cardamom seeds.
Add oats, toast them for a minute or so.
Add water (or milk). Bring it to boil. Reduce the heat, cover and simmer gently until the oats are tender.
Give it a stir once to make sure the bottom is not burning.
After 35 minutes it should be considerably thicker. Turn off the heat, stir in raisins and leave it covered for few minutes. Remove cinnamon stick before serving.
Divide the oatmeal in bowls, top it with honey and nuts and serve with a glass of milk for a balanced breakfast.
http://www.simpleglutenfreekitchen.com/2013/12/spice-oatmeal-porridge.html

Print
You might also like: