I get great satisfaction when I have rice leftover from a previous meal and with little effort and just a few extra ingredients turn into something impressive and tasty.  I love leftover rice so much I sometimes make extra on purpose. Aside from using it in fried rice, casserole, salad or pudding I enjoy making rice crust for savory tarts. It's quite healthful and delicious way than butter pastry crust.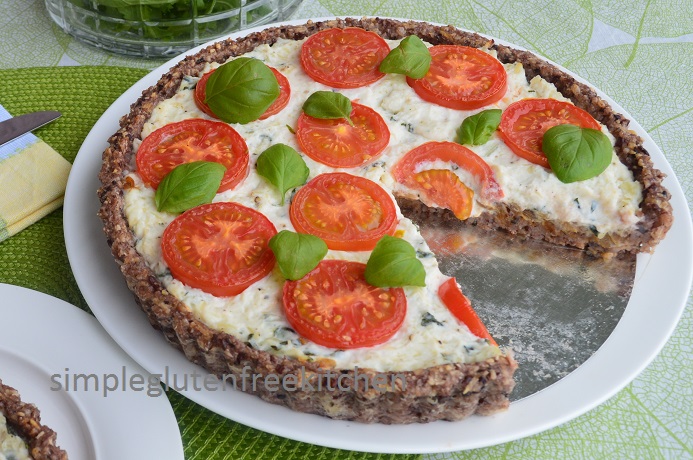 The recipe is easy enough for lunch and week night dinner, served with a simple green salad.
I stir in egg to bind, add parmesan and herbs for flavor. When it is pre baked  for 15 minutes, it seals together and is ready to hold filling of your choice. I usually make small 4″ tarts and assemble by piling  sauteed or oven roasted vegetables, then top with the cheese.  However, this past week when I saw a gorgeous, ricotta filled tart, decorated with slices of blood oranges on Coffee and crumpets' blog, I  just couldn't resist utilizing the pretty color contrast for a savory tart and with what I had on hand.
So, armed with leftover multi grain rice, ricotta, fresh basil and other pantry staples I came up with this delicious savory tart recipe.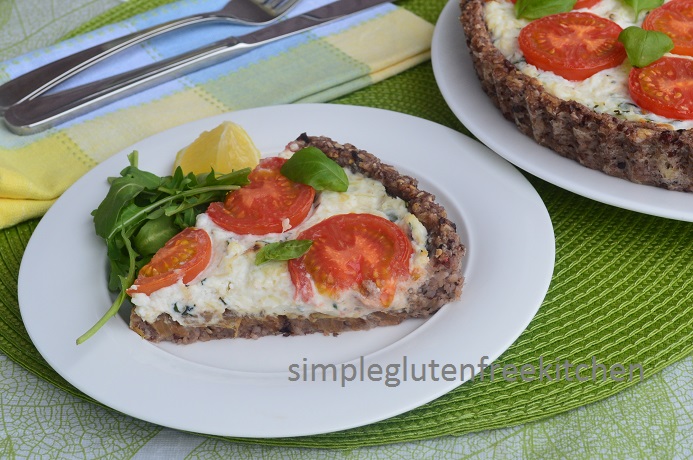 Although, you could make this recipe with pastry crust I would suggest,  you make with rice. The crust gets slightly chewy and crispy on the outside and holds together really well. If you do not have leftover rice, go ahead and make some so you can try this tart. You can't imagine how delicious it is.  The sweet flavor of caramelized onions, creamy ricotta and the tartness of tomatoes bring together well balanced flavors into this recipe.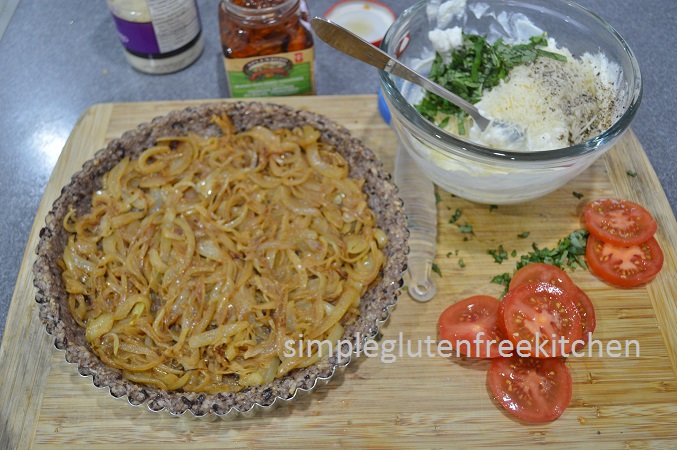 Caramelized Onion & Herbed Ricotta Tart w/ Rice Crust
Outstanding rice crusted tart with sweet caramelized onions, tart tomatoes, fresh basil and creamy ricotta!
Ingredients
For tart crust

3 cup cooked gluten free multi grain rice or brown rice
1/2 cup grated parmesan cheese
1 egg or 1.5 tbsp ener G replacer mixed with 2 tbsp water
salt and pepper to taste

For tart filling

1 large onion, thinly sliced, lengthwise
1 tbsp butter
300 g extra smooth ricotta cheese
1/3 cup parmesan cheese
2 tbs coarsely chopped basil, extra leaves for garnish
salt and black pepper to taste
pinch of sugar
2 tomatoes, sliced (I used juicy cocktail tomatoes)
olive oil for brushing
Instructions
In a food processor bowl, combine all the ingredients for the tart. Pulse until combined.
Spoon into a lightly greased 9-10" tart pan or pie plate or small tart tins.
The rice mixture will be sticky use wet hands to press it into bottom and up sides of pan to form crust . Bake in preheated 400° F oven for 15 or until the edges just start turning golden brown.
While the crust is baking, cook onions in a skillet with butter and a pinch of salt and sugar. Cook, stirring constantly, until the onions begin to soften and turn light beige all the way.
Combine ricotta, parmesan, basil and salt and pepper in a bowl. Set aside.
When the rice crust is done, remove from oven, but do not turn off the oven. Reduce temperature to 375°.
Let the tart cool for 5 minutes. Brush with olive oil.
Spread the onions over the crust, top with herbed ricotta mixture and spread evenly.
Arrange tomato slices in a single layer. Bake in the oven until the tomatoes shrink and shrivel and the edges of the crust go crisp.
Serve immediately or let cool to room temperature before serving. In either case, sprinkle tart with fresh basil leaves and salt and pepper just before serving.
http://www.simpleglutenfreekitchen.com/2014/01/caramelized-onion-herbed-ricotta-tart-w-rice-crust.html
This recipe is linked to Allergy Free Wednesdays.

Print
You might also like: