There are many reasons to love polenta.  I often make a large tray of polenta and freeze the leftover so that it can be used for fries, croutons, tapas snacks and upma. When I did a post on polenta cakes with crunchy cilantro pesto, I said to freeze the scraps that you got from cutting polenta rounds for another recipe. Upma, was that recipe I was talking about.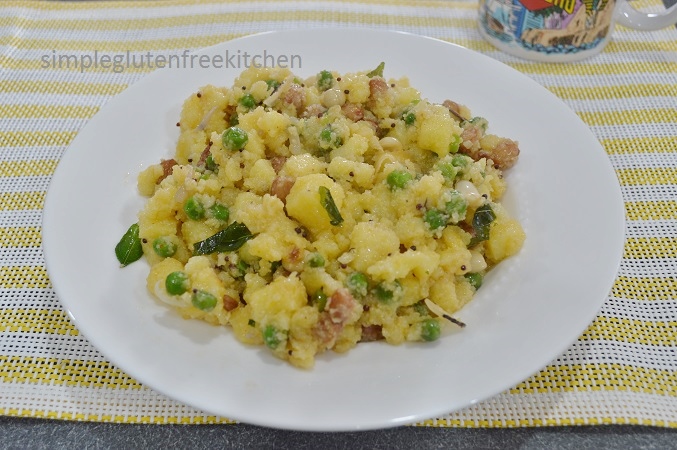 Upma is a south Indian breakfast dish, made with semolina and vegetables. It was a common breakfast in my home however, when I went gluten free I thought I would never be able to eat upma. I looked for alternative grains to make upma, such as cream of rice and oats, they taste great but not the same as semolina upma. Then I tried with cornmeal/polenta, since it closely resembles semolina, but the end result was a complete mush. I came to realize, that the absorption characteristics of semolina and polenta were different. So to get the comparable results in terms of consistency I used (cooked) polenta to make upma. The term 'polenta' refers both to coarsely ground cornmeal and to the cooked mixture made from it.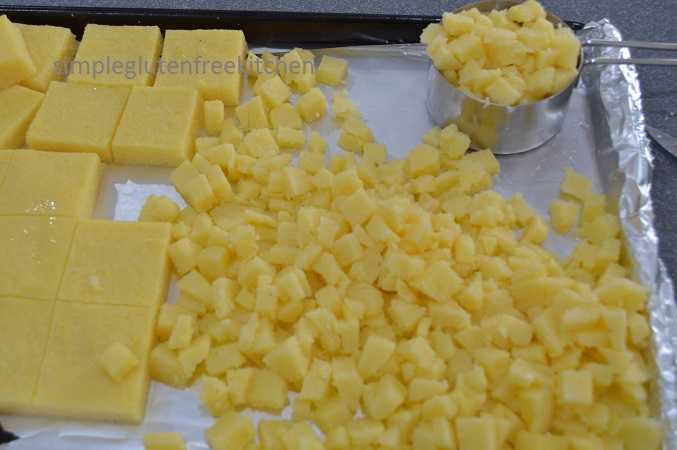 Upma made with polenta is very close in taste and texture to the traditional semolina upma. I make this quite often and love it. It does not require a lot of ingredients and is one of the easiest and quick breakfast or lunch option for school or work.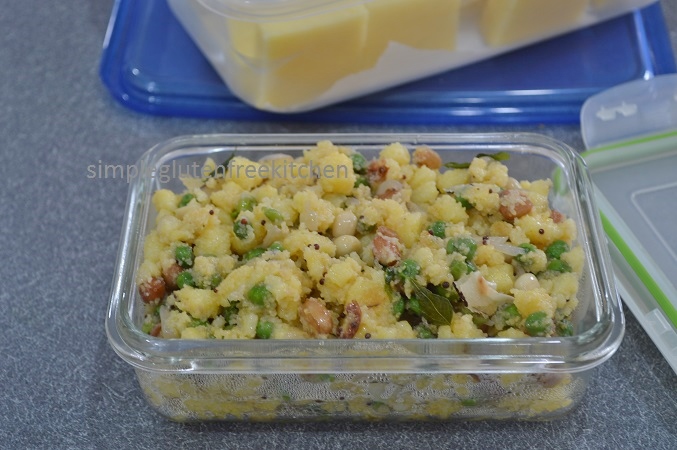 For this recipe you need to make a good basic polenta with yellow cornmeal, salt and water.  Stock can be used in place of water and butter is added for a more richer flavor. For recipe follow the directions here, till step 8.
A traditional south indian breakfast made with polenta.
Ingredients
3 cups cooked polenta scraps, chopped
1/4 cup sliced onion
2 green chilli, chopped
12- 15 curry leaves
1/2 tsp rai/ mustard seeds
1/2 cup peas
1/3 cup raw peanuts
10-12 (1') dry coconut pieces
3 tbsp oil
Instructions
Heat oil in a pan on medium heat.
Add rai/mustard seeds and curry leaves. When they begin to splutter, add peanuts, roast for few seconds.
Add onion, fry until soft, about a minute.
Add in coconut pieces, stir until fragrant and slightly golden (take care not to brown.
Stir in peas and green chilli.
Add chopped polenta, sprinkle water about a tsp or two to slightly moisten the polenta.
Gently mix and cook until warm.
Serve immediately.
http://www.simpleglutenfreekitchen.com/2013/09/polenta-upma.html

Print
You might also like: