Its already October, the year has gone by so quickly. Now that my daughter is in University and commutes everyday, I care for her more that she eats well. After a carefree school life of 12 years, Uni. life can be tough. Her daily schedule from Sunday through Friday afternoon is studying, eating, sleeping and then more studying. TV, phone, computer, all things digital have taken a back seat. This sudden change has surprised me but is a plus for the new phase of her life.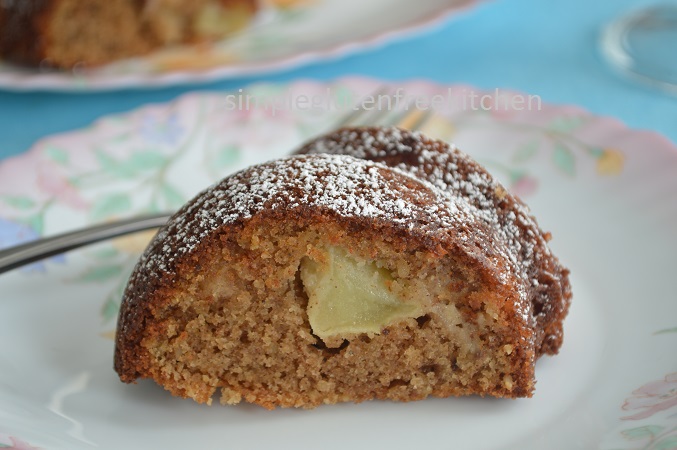 On certain days she leaves home at 6:30 AM and on those days I give her lunch as well as breakfast that she can easily eat on the bus. I like to pack something warm, healthy and portable like an egg roll, french toast or frittata. If she doesn't want anything eggy then I take out muffin or a slice of cake from the freezer, that only take few seconds to warm up in the microwave.
My daughter loves having cake for breakfast and I love to bake.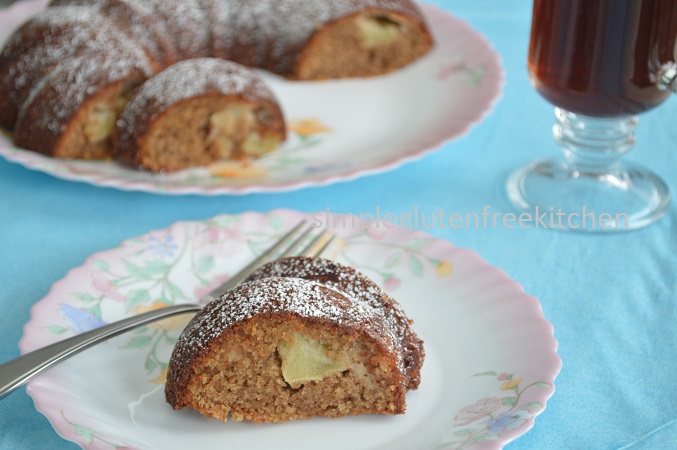 I have  real weakness for spices and I use a lot during fall and winter months. Be it sweet milky tea, soup, stews, pies, cookies or cakes. Their deep aroma and strong taste make any food richer and the warming notes complement with cold weather. Since apples are the fruit of the season and go very well with spices, what better way to kick off the season?  I have been baking this wonderful apple cake for over 8 years, it is just perfect for cool fall mornings. The cake tastes just as you would imagine something called chai spiced apple cake. There is warm spiciness from Indian chai flavor and pleasant tartness from the fresh apple pieces.
A beautiful apple cake baked with granny smith apples and Indian chai spices for a fall morning breakfast.
Ingredients
73 g (3/4 cup) almond meal
96 g (3/4 cup) brown rice flour mix
145 g (3/4 cup) golden brown sugar
1 tsp baking powder
1/4 tsp baking soda
1/2 cup butter
2 eggs
1.5 cup diced granny smith apple

Chai spice

1/2 tsp cardamom powder
1/4 tsp ground cloves
1/4 tsp nutmeg
1/4 tsp ginger powder (optional)
1 tsp cinnamon
Instructions
Preheat oven to 350°f. Spray a bundt or a tube pan with cooking spray.
In a small bowl mix flour, baking powder, baking soda and chai spices.
In a mixer bowl or a large bowl, combine butter, brown sugar and eggs.
Whisk in dry ingredients until just mixed.
Stir in apple chunks.
Spoon batter into the prepared pan, and smooth top.
Bake for40 minutes or until the tester inserted in cake comes out clean.
Let cake cool in pan on a wire rack for 30 minutes. Invert onto rack to cool completely.
Notes
Recipe adapted from Apple cinnamon bundt cake by Martha Stewart. When you click on the link it says from the special issue of Martha Stewart Living of 2007 but its an old recipe from her magazine that I have.
http://www.simpleglutenfreekitchen.com/2013/10/chai-spiced-apple-cake.html

Print
You might also like: