Punjab is India's 'bread basket' and flat breads are made fresh everyday from various grain and bean flours such as wheat, sorghum, barley, buckwheat, corn and chickpea. Come winters and, it's  makki ki roti or yellow corn flat bread, that becomes staple in every punjabi household – be it breakfast, lunch or dinner. Corn often referred to as maize in Punjab, is gluten free which makes it a good option for those who are allergic to wheat.
Traditionally,  Makki ki roti makes a splendid combination with sarson ka saag (cooked mustard greens) but it can also be cooked in other ways to relish with yogurt and butter. This recipe is flavored with fresh methi (fenugreek leaves). Rich, pungent and slightly bitter, fenugreek leaves are extremely nutritious and turns a plain makki ki roti into something delicious and healthy!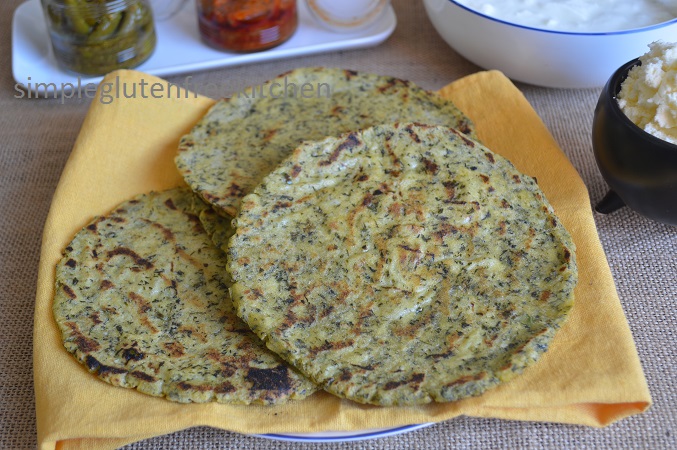 Since yellow corn flour does not contain gluten, mashed potato and hot water  is used to help bind and obtain a softer dough that doesn't break at the edges, when rolled or shaped into rotis. The dough is generally kneaded in batches just before cooking each roti till it becomes very soft and easy to handle.
Makki ki roti is not rolled with a rolling pin like wheat or sorghum chapatti. You pat the dough between palms of both the hands, then half cook on a hot tawa (cast iron skillet) and finish on the open flame. The direct heat from the burner causes the flat bread to puff up, and provides a wonderful smokey flavor. This only takes a couple of seconds and with the help of tongs roti is removed from the burner to the plate. Methi wali roti does not puff up like a wheat or  plain makki ki roti, however a roti cooked this way is bursting with flavor and brings a sense of contentment when served piping hot with homemade butter on top and some pickle and yogurt on side.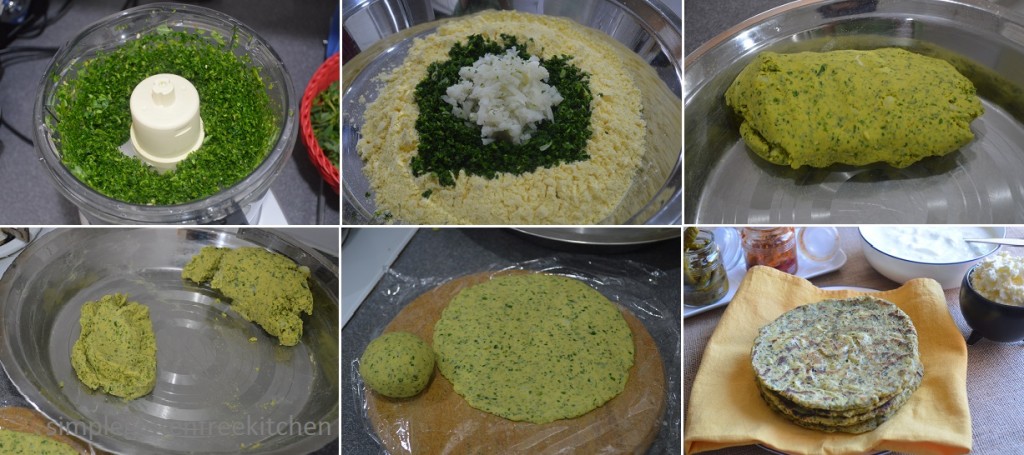 Ingredients
250 g (2 cups+1 tbsp) yellow corn flour
90 -100 g methi leaves (washed and hard stems removed)
1 (118 g) potato, boiled and mashed
3 hot green chillies
1 1/4" piece of ginger
salt to taste
hot water just off the boil
butter and yogurt to serve
Instructions
Place methi leaves, ginger and green chillies in a bowl of food processor and chop finely (you can also do this by hand).
Take corn flour in a wide mouth bowl. Mix in coarsely ground methi mixture, salt and mashed potato.
Pour in hot water (about 3/4 cup), mix with a spoon. Leave aside until cool enough to touch.
Knead with clean hands for few minutes till you get a firm dough. Add water if required.
Heat a tawa or cast iron skillet on medium heat.
Divide dough into 3 portions. Knead one part by moistening hand in warm water or by adding water in little proportions and kneading with a rubbing motion so that the dough becomes soft and pliable.
Now, divide this part of the dough into two and make smooth balls.
Take one ball, flatten it slightly and pat between moistened (or greased) palms to make 5-6" round disc of medium thickness (alternately, use your moistened fingers and palm to gently pat the flattened dough to form roti on a plastic wrap or wet napkin).
Carefully lift the roti and place it on a preheated tawa. Cook lightly on one side for 15- 20 sec.
Turnover with a spatula and cook for 20-30 seconds. Pick roti with tongs and cook directly on flame (put a wire cooling rack if using the electric burner), turning around until both sides are cooked.
Repeat the process of kneading, patting and cooking till you have consumed all the dough.
Once the flat breads are cooked, serve immediately or stack them and wrap tightly in foil to keep them warm until ready to serve.
Serve with a blob of butter on top and yogurt on side, in a true punjabi way!
Notes
This roti is often served hot from the griddle, though you can make them ahead. To keep them soft they are wrapped in a napkin, then placed in a bowl with a lid or in foil and reheat them later in oven or on tawa.
http://www.simpleglutenfreekitchen.com/2014/02/methi-wali-makki-ki-roti.html

Print
You might also like: