Some foods are a challenge to photograph. I usually cook in  the evenings and even if I cook during daytime on weekends, the weather hardly permits me to take photographs in natural light. I live in a city that has the wettest climate. At times, in winter  it  seems that rain never stops, so most of the images on my blog are taken under ambient room light.  They are nothing like the ones I see on some of my favorite food blogs but I am quite satisfied. However, every time I tried to take pictures of  tandoori chicken the visual appeal in them was missing that can seduce your taste buds. Luckily, this Saturday I managed to get one picture from a leftover tandoori chicken that I cooked a day before.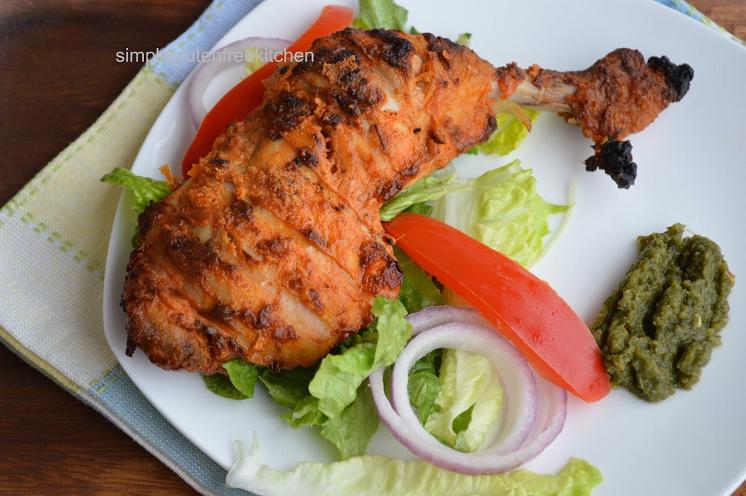 Look at the difference in the color of the pictures below, the one on your left is taken under normal room light and the other on your right is taken in natural daylight, even though it was a bit overcast . Now, that is the original color of the delicately spiced tandoori chicken which I cooked without the tandoor and any food dye.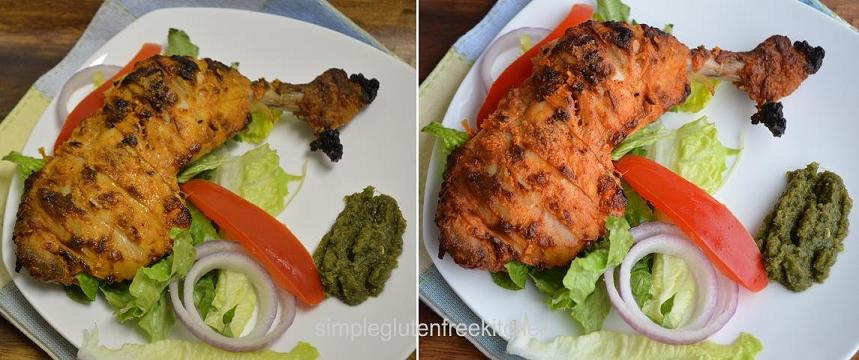 Tandoori is a cooking technique for roasting food in a wood or charcoal fired oven called "Tandoor". The fierce heat inside the tandoor sears the surface of the meat and seals the tasty juices, then quickly cooks the meat to tender perfection. Tandoors can not cook meat properly unless it is prepared in a special way. The secret to do tandoori chicken is by scoring and marinating the meat for 8- 24 hours,the longer the better. So with a good marinade you can make tandoori dishes at home using convection oven, even though it will never turn out as it does in a tandoor but you can achieve close to similar results.
The marinade used for tandoori meat dishes is heavily yogurt based.
First, because yogurt has a natural acidity, which acts as a tenderizer and allows the chicken flavors to develop even before it is cooked. Second, it is thick so it holds to the meat well and keep the herbs and spices in place and also prevent the meat from drying out in high heat.
Chicken tandoori is an excellent dish to make  at home for your family or to entertain friends, as most of the work is done the previous day and then just an hour before the guests arrive, cook the chicken and then place the cooked chicken in a serving platter covered with foil. Keep in the warm oven until ready to serve. Tandoori chicken goes well with  tandoori roti or flavored basmati rice alongside any curried vegetable with salad and mint chutney. You may even serve the pulled tandoori chicken meat in naan wraps with yogurt cucumber dip and mint chutney.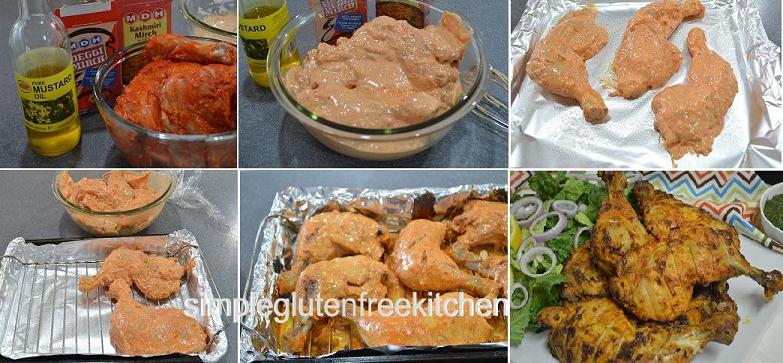 CHICKEN TANDOORI
Serves: 6
Ingredients:
For this recipe you need bone in, skinless chicken legs
 6 chicken legs weighing 1390 g
2 tbsp lemon juice
2 tsp degi mirch*
1/2 – 1 tsp kashmiri chilli powder
2 tbsp ginger, garlic paste
1 1/4 cup thick yogurt
3 tbsp mustard oil /canola oil
1 tsp garam masala
1/2tsp black salt (optional)
2 tsp kasoori methi (powdered)
salt to taste
melted butter
*Degi mirch is a mild chilli powder typically used to add color than heat to dishes.
Method:
Cut three slits on each side of the leg pieces.They should be deep enough to reach the bone.
Rub lemon juice, salt, tbsp ginger garlic paste, 1 tsp degi mirch, 1/4 -1/2 tsp kashmiri chilli powder for spiciness. Set aside for 20 minutes.
Combine yogurt, mustard oil, garam masala, kasoori methi, black salt and remaining ginger garlic paste and  degi mirch powder. Whisk until you have a smooth paste.
Add the chicken to marinade and mix to cover completely. Cover the bowl with cling wrap and refrigerate for 8-24 hours.
Set your oven to the highest heat. Line a baking  or a roasting tray with aluminum foil. Spray with Pam spray.
Take out the chicken pieces from marinade, shaking off as much marinade as possible. Arrange them in a prepared tray in single layer.
Bake for 15 minutes at 550 °F. Using tongs turn the chicken and bake for 10 -15 minutes.
Turn your oven to broil. Brush chicken with melted butter. Broil 2-4 minutes on each side till it gets charred marks.
Remove chicken into serving platter and let sit for few minutes before serving.
Serve with  salad and mint chutney.

Print
You might also like: