Firstly, thank you all so much for the sweet comments, google shares and pins on my panettone post.
Secondly, I also thank Paula of celiac corner for featuring me and my recipe, chai spiced apple cake for the month of January.  Her blog is an informative resource for the celiac and gluten sensitive community, providing the latest medical and research information, tips for living  gluten free lifestyle, reviews and much more.  I feel lucky to have such good blogger and google friends and readers

Love you all!
Now onto today's recipe of kale and broccoli stir fry.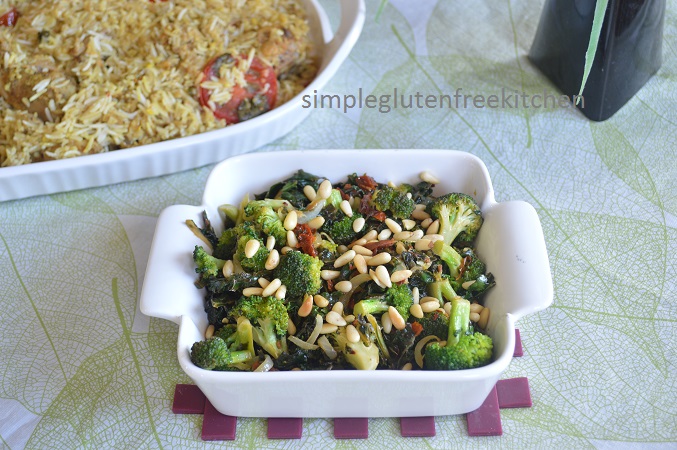 I always make broccoli the way my daughter loves it and this recipe is based on my earlier broccoli stir fry post. I have added kale and couple more ingredients.  Both kale and broccoli are nutrient rich vegetables which can be consumed, raw or steamed. You can add it to salads, soups, curry or as a side dish to any entree. The recipe is so simple and easy that I think you will love it. You cook the broccoli in desi ghee until it is lightly scorched but  still look green and crunchy and kale is softened. Then you add some more ingredients to spruce up the dish.  I really love its buttery taste along with delicious and  nutty flavor of pine nuts. Try it!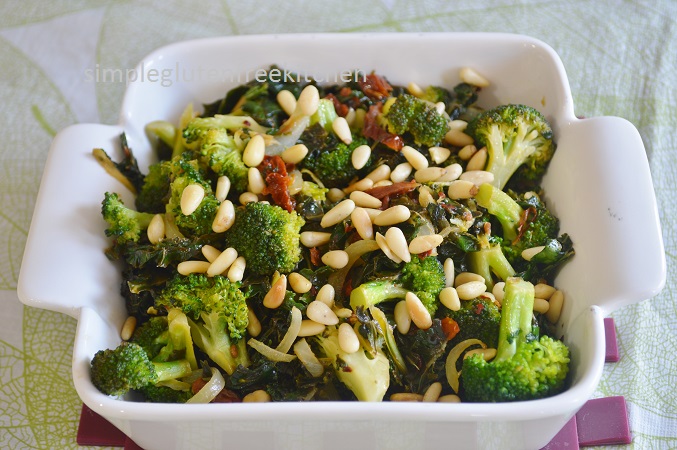 Kale And Broccoli Stir Fry
Super quick, nutritious and yummy side dish.
Ingredients
130 g (3 leaves) kale, stems removed and chopped
150 g ( 1 head) broccoli, chopped into bite size florets
2 tbsp sun dried tomato (packed in olive oil)
1 tbsp lemon juice
2 tbsp sliced onion
1/2" piece thinly sliced ginger
2 tbsp desi ghee/butter/oil
1 tbsp pine nuts
1 tsp red pepper flakes
salt to taste
Instructions
Toast the pine nuts in a pan on medium low heat, stirring frequently about 2-3 minutes. Remove and set aside.
Heat ghee in the same pan on medium heat.
Add sliced onion, saute.
Add kale and broccoli.Cover for 2-3minutes. Check if it is cooked enough for your liking.
Stir in ginger, sun dried tomato, salt, pepper flakes and lemon juice. Toss everything well.
Transfer to a serving dish.
http://www.simpleglutenfreekitchen.com/2014/01/kale-and-broccoli-stir-fry.html

Print
You might also like: